Norton to Take SNAP Challenge, Live on $4.50 of Food Per Day for a Week
WI Web Staff | 6/12/2013, 1 p.m.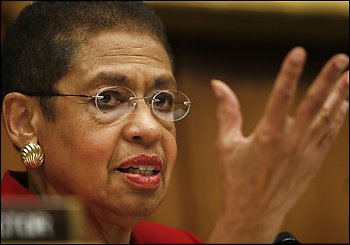 Congresswoman Eleanor Holmes Norton said Wednesday that she will live on less than $5 of food a day until next Wednesday, part of a national effort to bring attention to food-stamp funding.
Norton is participating in SNAP Challenge, which aims to shed light on spending reductions for the federal food stamp program, known as the Supplemental Nutrition Assistance Program, or SNAP. The program faces billions of dollars in cuts in the House Republican-proposed farm bill reauthorization.
Norton shopped with other Congress members at a Safeway supermarket in Southeast on Wednesday, purchasing only $31.50 worth of groceries that she said will be all she'll consume until June 19.
"Based on my past experience with the SNAP Challenge it is not easy to eat on $31.50 a week, but it is a small price to pay for members of Congress to try to make our Republican colleagues understand the cost to kids and adults who have no other resources," Norton said.
A House vote on the bill is expected later this month.