THE RELIGION CORNER: Prayer Request for a Successful Health Fair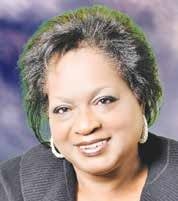 "Only it must be in faith that he asks with no wavering (no hesitating, no doubting). For the one who wavers (hesitates, doubts) is like the billowing surge out at sea that is blown hither and thither and tossed by the wind."
 — James 1:6
June 15 is shaping up to be a very special day – my church will sponsor a health fair, and though there are many others hosting health fairs, to me, this one is extremely important for a number of reasons! 1 - It's in memory of my mother who died from complications due to Type 2 diabetes; 2 - It's a celebration of the one-year anniversary of my talk show; and 3 - It's in partnership with my church, All Nations Baptist Church, as our chance to reach souls, and to teach others how to avoid the many pitfalls when one's health is ignored. We are asking all to pray with us for a successful health fair!
Take some time and experiment with the power of prayer. It doesn't matter what name you assign to the Higher Power, Jehovah Jireh, Jehovah Shalom, or Jehovah Rophe. Many call Him God, Jesus Christ, and the Holy Spirit. Regardless of the name to which you pray, even if it is simply the Universe, as long as you admit that the entire world is set up according to an orderly process, and you pray daily.
That's what I've been doing – praying and asking the Lord to lead, guide and direct my steps. There's a scripture, Proverbs 3:6 that says "In all thy ways acknowledge Him, and He will direct your paths."
I'm feeling really great about how the Lord is leading me in terms of who I should invite to help bring health awareness to the forefront of the African-American community locally and nationally. D.C. Mayor Vincent Gray has confirmed his attendance along with six members of the D.C. Council. Now, I'm feeling excited that our elected officials are stepping up, helping to shine a light on the need for good health! Will you come out and hear what they have to say? I urge you to come!
A phone call came in recently from the National Institutes of Health (NIH), delighted that our health fair focus is on diabetes. The caller asked if we could please assist her in recruiting 400 African Americans to participate in a research study on the effects of diabetes in families; studying genes, and other areas. The compensation is $100.00 per person. So if you're interested, give me a call or send an email to lyndiagrant@gmail.com.
We pray that people throughout the Washington Metropolitan area, who are living without health insurance, come out and seek assistance. Though it is only a drop in the bucket, my church, is going all out to bring attention to this matter and encourages everyone to come by, Saturday, June 15 beginning at 10 a.m. until 3 p.m., for medical advice or assistance.
The health fair is coming together, look for the ad in the Informer for details. We're counting on you!
Things changed when I decided it would be OK, no matter who attended, as long as we were able to help someone during this health fair, so I let go, and let God. The confirmations began to come in from health groups; one right after the other, that's how God works, and it's due to the power of prayer.
Bring your family and loved ones out for a marvelous day of workshops, teaching, tests and live gospel music! Enjoy healthy, freshly cooked, organic foods; sample healthy snacks, fresh fruits and lemonade. This could be an opportunity for you to learn how to prepare your meals at home in a similar manner.
Lyndia Grant hosts a radio talk show, Think on These Things, on WYCB 1340 AM, Radio One, Fridays at 6 p.m. She speaks all across the country, visit her website at www.lyndiagrant.com, send comments to lyndiagrant@gmail.com, or call 202-518-3192.