D.C. Group Uplifts Fathers of Special Needs Children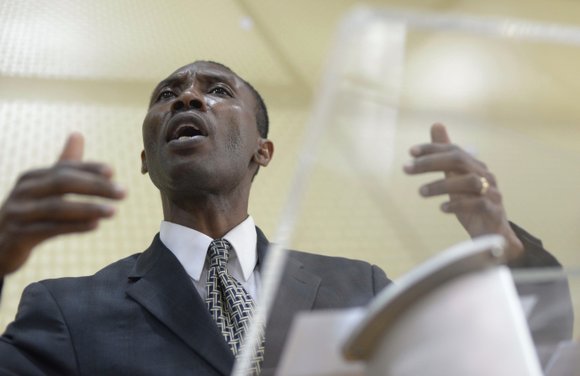 There have been many times when Anthony Hunter has been stressed about the daily challenges and demands of raising his seven-year-old daughter, Angel.
But Hunter is not just caring for a spoiled youngster bent on having her way: she is restricted to a wheelchair and unable to speak.
"One day, I just stopped and asked God, 'why me?'" Hunter, 29, told an attentive crowd June 12 at THEARC Theater in Southeast during a pre-Father's Day celebration. "When I discovered this group, I knew God was with me."
Hunter is one of several fathers of children with special needs who are members of the Male Caregivers Advocacy Support group, "the only one of its kind in D.C. and in the country," according to group facilitator Derrick Philson.
The nonprofit organization, which was founded 12 years ago and convenes Wednesdays at the theater, boasts more than 200 D.C.-area members.
The event's sponsor, the District-based Health Services for Children with Special Needs, created and and works in conjunction with the organization, operating under the Department of Family and Community Development at local institutions and universities to train support groups and conduct related research.
In addition to assisting males who are the primary caretakers of disabled children, Philson's group helps to ensure that their children have access to top-notch programs and services aligned with their educational and health needs. The group also provides mentoring for young fathers.
"We are adult men with huge responsibilities of taking care of special needs children," said Hunter, who joined the organization two years ago. "The beautiful part of being a member of the group is that it empowers me and keeps me going."
The event, which included a tribute to Father's Day, featured an awards banquet and a panel of speakers.
Philson, 44, served as master of ceremonies for the fete, which attracted nearly 100 people. His daughter, now 25, was incapacitated 14 years ago after being hit by a car.
Philson said she continues to recover with hope of one day being able to walk and talk again.
He said the public is often made aware of support programs for mothers and programs that help men to become better fathers, but rarely of programs for fathers who are the main caretakers for children with disabilities.
"We've had challenge as fathers, but we are our kids' advocates. They can't speak for themselves, but we can speak for them, and this kind of event reinforces how we feel about our children," he said.
Uzoma Opigbedgu, 46, the father of a special-needs seven-year-old, said because men are human, they have weaknesses.
"We need fellowship," he said. "Sometimes I need help and that's why I'm member of this proud organization. We believe in what we're doing and are willing to share [our challenges and successes] with others," Opigbedgu said, noting that the membership ranges from men in their 20s to seniors as old as 80.
"The older generation needs the younger generations and they need us," he said, adding that when it comes to the care of children, "we can learn from each other and see the whole picture."