Will We Ever Reach Consensus on a College Football Playoff?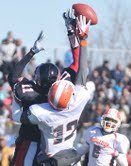 As the college football spring season winds down, fans can't help but ask themselves the same question that's been surfacing for weeks: Will the Bowl Championship Series find consensus on the college football playoff?
The BCS committee, which is comprised of conference commissioners, is looking to move toward consensus on its newest project — the college football playoff. At this point, there's no indication that they've made any significant progress.
They don't know who'll be on the selection committee. They don't know the size of it, when it will be determined, or what metrics might factor into the selection of qualifying teams. However, most football analysts feel that at some point this fall, we'll know the composition of the selection committee.
There will be more than enough pressure placed on committee members. Let's face it, some spring games attracted as many as 90,000 fans. And there are some college football rivalries that fall just short of Hatfield vs. McCoy.
It would be smart to have a large committee, perhaps as many as 25, in order to limit the impact of any one member. The NCAA Selection Committee for basketball is comprised of 10 members. They typically reach consensus on most of their decisions, with the exception of a few bubble teams. As a result, there is rarely any major controversy.
It chooses the No. 1 seeds, determines the real contenders from the 37 at-large schools, and prepares for the push-back. Most times, it goes away fairly quickly, once fans come to grips with the fact that the most deserving teams did make the tournament. On the other hand, there's football. I don't think you'd want to be the committee member to tell Texas A&M that Boise State finished one vote ahead of them for the fourth spot.
If there's one thing we can count on, it's the selection committee being under a great deal of scrutiny. In all likelihood, the committee will be comprised of retired media people, athletic directors and former coaches. Regardless of the composition, the committee will be made up of human beings who'll all bring their own distinct set of biases, likes and dislikes. This is unavoidable.
The most important thing is that the people involved truly know college football. Of course, they must have the intestinal fortitude to make difficult decisions, and be of high integrity.
The committee will have to negotiate the inevitable debate between the Nos. 4 and 5 teams, the cut-off for the four-team playoff. Remember Kansas State-Oregon last year or, in 2010, the threesome of Stanford-Wisconsin-Ohio State all tied up at 11-1 at the end of the season and ranked 4-5-6.
Each season's semifinal games will rotate among the Sugar, Rose, Orange, Fiesta, Cotton and Chick-fil-A Bowls. The Rose and Sugar get the inaugural call on Jan. 1, 2015, part of annual triple-headers that day and on New Year's Eve that will showcase BCS-level games. In years two and three, the semifinals will be played on New Year's Eve afternoon and evening — unlike last year, when New Year's Eve featured the Music City, Sun and Liberty Bowls.
At this point, we are standing on the brink of a major cultural shift in college football. New Year's Day games will not be played for rankings. Instead, they'll be played to determine a national champion. This will put to an end to the traditional Jan. 2 discussions regarding who is really No. 1.
Now, we will have a true, legitimate champion.