The End of an Era: Spingarn Senior High School Closes after 61 Years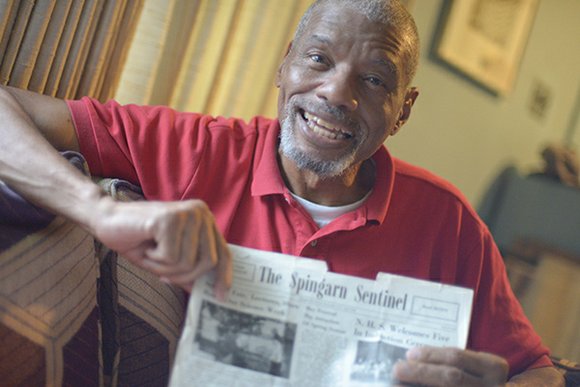 When word spread that Joel Elias Spingarn Senior High School in Northeast would close this year, it took a while for people – many of whom expressed disbelief – to get used to the idea: the end of an era was in sight.
While the 87 members of the historic school's Class of 2013 looked forward to new beginnings, the students, faculty and staff who are being displaced as a result of Spingarn's official closing in July, are grappling with a sense of profound loss – and uncertainty.
"I'm saddened that this significant part of D.C.'s history is ending," said Arthur Scandrett, 71, who graduated from the school in 1959. "I'm very disappointed," he said, adding that his sister, along with some of Spingarn's most notable alumni like basketball legend Elgin Baylor and Marty Tapscott, a retired Richmond, Va., police chief, were members of the first group of seniors who graduated in 1954.
Spingarn's principal, Gary Washington who has been at the helm since 2010, said many of the students who had anticipated completing their high school education at the school are "still a little shell-shocked."
Although a statement posted on Spingarn's website states that remaining students will be reassigned to a neighborhood high school, Washington isn't so sure if that will be the case, as Spingarn has been the only high school within close proximity to their homes.
"There are a lot of mixed emotions," said Washington, 58. "The school is old and needs to be remodeled. But the biggest challenge is that my students who were ninth-, 10th- and 11th-graders now have to be transported to schools outside their neighborhoods. And that takes away from the concept of neighborhood schools altogether."
Washington also said he's waiting to learn of his fate.
"Right now, I don't know where I'll be, but I guess I'll know by the end of the summer vacation," he said.
Carolyn Anne Brown, a member of the Class of '83, said Spingarn's closing is the first D.C. high school to be closed in years.
"So it certainly makes one stop and wonder what's so challenging that [school officials] would have no choice but to close a school that's always been an important part of our community," said Brown, 48.
"I don't believe all the hype about the school failing. That's just somebody's plan to make a lot of money with charter schools, and unfortunately [city officials] are taking the bait," said the fast food restaurant manager. "I went to Spingarn. My sisters and brothers went, and we had the best education you could get at a public school. It breaks my heart to see Spingarn fade out like that, but I guess it's what they call a change for the better."
Spingarn was named for the Jewish-American educator from New York who championed the education of African Americans. The school sits nestled between the Langston Terrace Dwellings and the Langston Golf Course on Benning Road. The three-story brick structure has been on the chopping block since November 2012 when D.C. Schools Chancellor Kaya Henderson first announced her plan to close 20 schools by the end of next year.