Juneteenth Event Stressed Genealogy
Thousands Enjoyed a Day of Music, History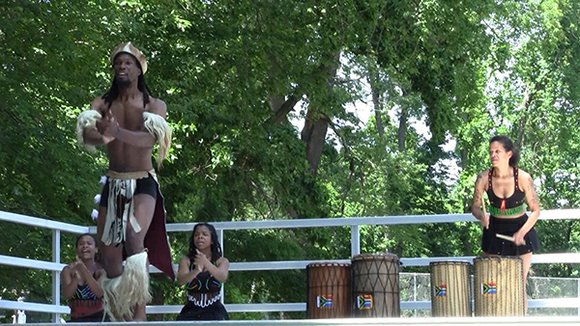 Juneteenth was celebrated in a big way in Prince George's County.
Thousands took advantage of sunny, near-perfect weather on June 15 attending the 6th Annual Juneteenth Celebration at Watkins Regional Park in Upper Marlboro.
The free event included a full day of dance and musical performances and plenty of food and drink. However, this celebration also had a serious side with morning and afternoon genealogy workshops, costumed historical interpreters sharing facts and tales from years past and numerous ways for adults and children to gather and collect historical information.
"It's a great opportunity to share the history of African Americans and share the history of Prince George's County," said Anthony Nolan, division chief of Natural and Historical Resources for the county.
Juneteenth is a national commemoration of the ending of slavery in the United States. From its Galveston, Texas, origin in 1865, the observance of June 19th as the African-American emancipation day has spread across the United States and marks the date that the last enslaved people learned of their freedom.
Historical interpreter Jo Mimms of the Maryland-National Capital Park and Planning Commission talked to passersby at a booth where she explained quilting and sewing techniques of earlier times and the "not-so-famous" African American women of the 19th century.
"Everybody knows about Harriet Tubman," said Mimms, dressed in a blue and tan checkered period dress that she hand-stitched. "Everybody knows Sojourner Truth but not everybody knows Emily Saunders Plummer." Plummer was an enslaved woman who lived in Maryland and Washington, D.C., and who tried repeatedly to escape slavery along with family members.
Lyndra L. Marshall, commissioner with the Maryland Commission on African-American History and Culture, was one of the presenters leading a "Beginning Genealogy" workshop. She said about 35 people attended with many receiving one-on-one counseling about how to begin or advance their genealogy searches.
"Once a person knows where they come from, they have a better understanding of who they are and where they need to go in life," said Marshall.
At another workshop on using Freedman Bank records as a research tool, Damani Davis told a group of about 20 that the records can be a gold mine of vital genealogical information. Those in attendance asked Davis a range of questions about age discrepancies in records and how best to use marriage records.
"Be flexible and be open minded," Davis told the enthusiastic group of new genealogists.
Other workshops included "Be Careful What You Throw Away" and DNA testing.
Alesia Thornton of Columbia attended the celebration with her 11-year-old daughter Carina. She said it's an event she attends annually.
"I think it's important to teach our young people our heritage so they learn to appreciate what they have," said Thornton.
Carina, who cited decorating a T-shirt as one of her favorite activities at the celebration, added that she learned about how enslaved people used songs to communicate.
Throughout the park, banners were displayed that promoted African-American heritage sites in the county such as Cherry Hill Cemetery, Abraham Hall, Holy Family Catholic Church and Dorsey Chapel.
The Uhuru Quilters Guild also hosted an African-American Quilt exhibit at the Watkins Nature Center. Among the quilts on display and available for sale was a 40-inch by 60-inch colorful piece called "Gospel Hymn" by Elsie Houston and a 84-inch by 98-inch quilt by Nadine Mills called "African Pieces." They also handed out tips on quilt care, storage, cleaning and display.
The Taritibu Youth Association, Savage X, Nolan Williams and the Voices of Inspiration, Black Notes, and Sudden M Pac were among the music and dance groups that performed to a crowd that swayed, sang along, with many jumping to their feet and dancing to the music.
Dwayne Stepter of Fort Washington said he came to the event because his cousin was one of the presenters.
"It's great," said Stepter, praising the "amount of information on culture and history."