Michael Brown Plea Generates Anger, Disgust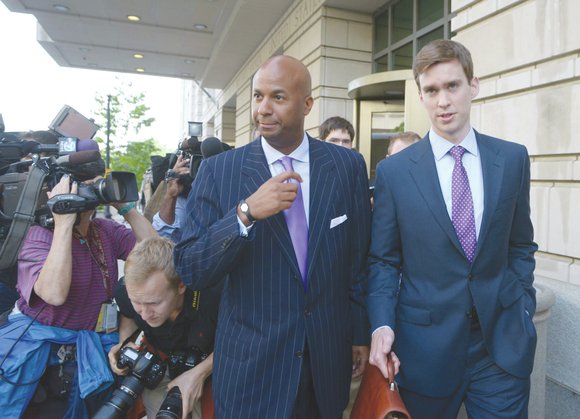 Wayne Strickland's face captured the disdain he said he feels upon hearing that former D.C. Council member Michael A. Brown pled guilty last week to taking $55,000 in bribes from FBI undercover agents.
Strickland pursed his lips, furrowed his brow and slowly shook his head from side-to-side.
"I'm not surprised he got caught. I'm just surprised the rest of them haven't gotten caught as well," he said of Brown's council colleagues.
Strickland, 49, a contractor and owner of WLS Concrete in Northeast, said he has no use for most of the members of the D.C. Council because they have done little to help business people like himself secure even a fraction of the contracts and jobs that have been generated by gentrification and the city's burgeoning growth. Scores of cranes dot the District's landscape, he said, but in most cases, D.C. business owners, particularly, black businesses have found that regardless of what they bring to the table, it doesn't translate into them securing contracts.
"We can't get any work in D.C. People from Maryland and Virginia are getting the jobs. They have us come to meetings, we bid on projects but businesses like Fort Myer Construction get all the jobs."
Strickland, several siblings, his mother and other family members sat on the steps of their family home in Brookland on a recent Monday evening in June, and discussed Brown, politics and the changing demographics of the city.

Lisa Strickland lamented what she said appears to be an attack on black politicians, and she and several relatives wondered aloud why no white politicians have been caught up in the U.S. Attorney's dragnet.
"I feel like they're trying to destroy all the black politicians," she said. "It's not just black politicians who are committing crimes it's all of them. They need to do background checks on all of the council."
Last Monday, Brown, 49 – son of the late U.S. Commerce Secretary and Democratic Party stalwart Ron Brown – pled guilty in federal court to a felony bribery charge and through a plea deal could serve as much as 37 months behind bars. Brown was caught on camera taking cash from FBI agents posing as businessmen and stuffing it in duffel bags and coffee cups.
U.S. Attorney Ron Machen, 43, said Brown made it known that he was willing to take money to facilitate access to city government and he admitted in court to taking the cash in return for his help in winning District government approval for a company that was seeking to be classified as a Certified Business Enterprise. This designation would create potentially lucrative business opportunities and Brown also agreed to help the company with government contracting opportunities.
In a second scheme, Brown admitted concealing the true source of $20,000 that was secretly donated to his failed bid in 2007 for a seat on the D.C. Council. Under the plea agreement, Brown escapes prosecution.

"This prosecution should make clear that we will not allow the politics of pay-to-play to flourish in the District of Columbia," said Machen. "We will not tolerate the backroom deals, the secret payments, and the unreported cash that corrupt not only our elections and public officials but our entire system of government. Our work will not stop until we stamp out the show-me-the-money culture that has deprived the great citizens of the District of Columbia of the honest government that they so desperately want and deserve."