Michael Brown Plea Generates Anger, Disgust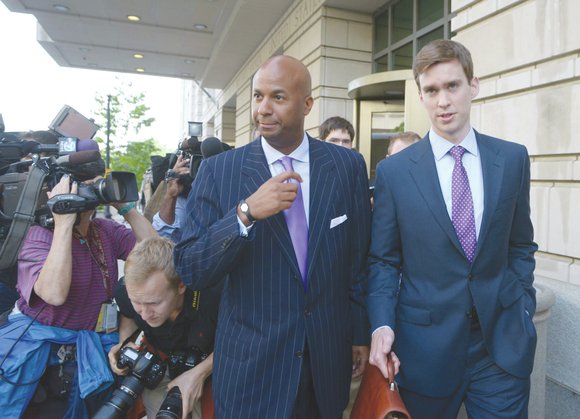 Timothy Gallagher, Special Agent in Charge of the Criminal Division of the FBI's Washington Field Office, said law enforcement "will not stop our pursuit until public corruption is a thing of the past within the District of Columbia."
Brown, served on the council in one of its four at-large seats from 2009 as an independent until January of this year. He abruptly withdrew from the April Special Election, citing family and personal reasons but it is now known that he did so after finding out that he was entangled in an FBI sting.
He is the third current or former member of the D.C. Council in the last year and half to stand before a federal judge on criminal charges. Former D.C. Council Chairman Kwame Brown pleaded guilty last June to bank fraud charges and former Ward 5 Council member Harry Thomas Jr., is serving a 38-month sentence after admitting to stealing $353,500 in District money that was supposed to fund sports programs for young people in the District.
Last year, during Brown's re-election campaign, he reported that someone took almost $114,000 from campaign coffers. Brown said his former campaign treasurer withdrew money, but no charges were ever filed in the case.
Keisha Washington said she was surprised and saddened to hear about Brown's travails.
"He came to our building asking for our vote," the unemployed Ward 4 resident said incredulously.
"Yes, I'm surprised because I voted for him. He gave a good talk and I thought I'd give him a chance. I heard on the radio that he pled guilty. I think all politicians steal but he just wasn't smart about it. White people are smart and don't get caught."
"I'm surprised at Kwame Brown, Harry Thomas Jr., and especially Jack Johnson [former chief executive of Prince George's County]. All of them make it bad for all of us. It's sad. If I have a six-figure job, I'm not going to steal. They'd be wondering how they could get me out. They all do dumb stuff – money and power. [However], money makes the world go round."