Norton Undecided on Returning Campaign Funds from D.C. Businessman
WI Web Staff | 6/19/2013, 2 p.m.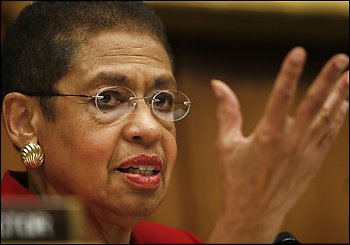 D.C. Delegate Eleanor Holmes Norton won't say if she'll return contributions from a city businessman accused of financing a shadow campaign on behalf of Mayor Vincent Gray.
Norton's office says it has "no further information" on whether it will return campaign contributions linked to city contractor Jeffrey Thompson, WAMU reports.
Lee Calhoun, a former employee of an accounting firm once owned by Thompson, is accused of making straw campaign contributions. He is expected to plead guilty in court this week.
Thompson sold his ownership stake in the firm after federal agents raided his home and offices in March. He has not been charged with any crime.
The firm issued a statement saying that under Thompson's ownership, employees and their family members and friends "were ensnarled by the aggressive solicitation of campaign contributions, including allegedly illegal contributions."
Norton has received thousands of dollars over the years in contributions from Thompson and his employees.
Campaigns for Maryland Gov. Martin O'Malley and President Barack Obama have both returned donations linked to Thompson.