P.G. Anti-Drug Coalition Awards Scholarships to Local Youths
WI Web Staff | 6/19/2013, 11 p.m.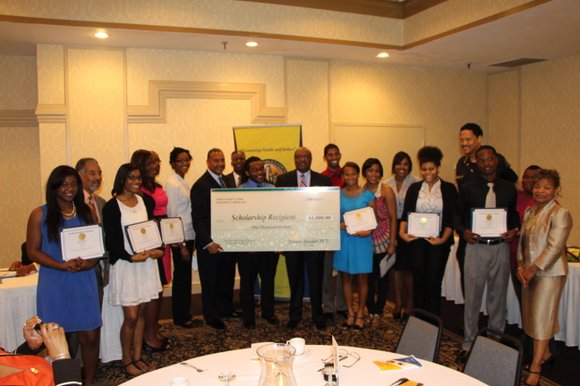 More than a dozen high school and college students from the region were awarded scholarships by a local chapter of a national anti-drug alliance for positive contributions to their communities.
The Prince George's County Drug Policy Coalition Inc., held its second annual "Empowering Future Leaders Scholarship Breakfast" at the Clarion Hotel in Oxon Hill on June 19, 2013. WUSA news anchor Lesli Foster presided over the event, for which Bowie State University president Mickey Burnim was keynote speaker.
Coalition president Valencia Campbell welcomed about 80 attendees, including several local dignitaries and elected officials, who came to honor the 15 area high school and college scholarship recipients.
Applicants were required to write an essay on what they are doing to improve their communities and provide transcripts. Campbell praised the students for their achievements, including starting their own businesses as well as tutoring and mentoring younger students.
P.G. County Council member Obie Patterson (D-District 8) assisted with presenting the 15 $1,000 scholarships to the students.
"In these tough financial times, with student loan debt exceeding credit card debt in our nation, scholarships such as these are a tremendous help to families in need," Patterson said.
The selected students included graduating seniors from Oxon Hill, Bishop McNamara and Friendly high schools. Other recipients currently attend universities and colleges such as Virginia State, Morgan State, Bowie State, Temple, Maryland and Delaware State.
Maryland state Sen. C. Anthony Muse also presented Senatorial Citations to each scholarship recipient. Eight of the recipients, along with several others nominated by the coalition, also received scholarships of $1,000 each for four years from Muse at an event a few days later.
The coalition also awarded 17 scholarships last year.
For more information about the Prince George's County Drug Policy Coalition, Inc., visit its website, www.pgcdpc.com.