THE RELIGION CORNER: Praise God, for a Blessed Health Fair!
Still I Rise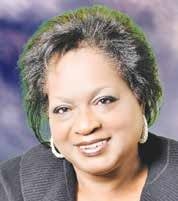 "You may write me down in history; with your bitter, twisted lies, you may trod me in the very dirt, but still, like dust, I'll rise. Did you want to see me broken? Bowed head and lowered eyes? Shoulders falling down like teardrops; weakened by my soulful cries. You may shoot me with your words, you may cut me with your eyes, you may kill me with your hatefulness, but still, like air, I'll rise. … I rise. I rise; I rise." — Maya Angelou
This column title came about due to a conversation with my best friend and former co-worker of 40 years this week, Connie Speight. As she and I were talking about the health fair, she mentioned the poem by Maya Angelou, "Still I Rise!" And I said, "Connie, that's my column for next week."

What a successful health fair, held at All Nations Baptist Church in Northeast on Saturday, June 15. All praise and honor be to God! The turnout was very good; every health organization that confirmed their participation attended, and in fact, one extra health organization showed up, Howard University Dental School with about 10 people. They came to conduct on-site screenings, to tell patients from a general evaluation, what they may need in terms of dental work.
A special thank you to Chartered Health, the only group to stay in close contact with me – now AmeriHealth; the coordinator Mrs. Kimberly Ellis who worked diligently and confirmed nurses to conduct screenings; she also confirmed guests for my radio show; and she confirmed Ms. Karen Dale, executive director of AmeriHealth, as our keynote speaker for the event. Thank all at Chartered/AmeriHealth.

MedStar Health Washington Hospital Center was there entertaining the crowd with the trauma wheel game and giveaways; staff from Genevieve Johnson Senior Day Care Center in Northwest, shared information regarding Alzheimer's and Dementia; and the D.C. Commission on Aging also showed up along with the American Diabetes Association. I'm so grateful, especially since my mother Fannie Estelle Hill-Grant suffered from Type 2 diabetes. Ms. Lenisa O'Reggio, from the diabetes association, ensured that the table was in order on Friday evening. Thank you so much. That meant a lot to me.
The Food Court with, Dr. Keita Vanterpool served healthy smoothies, thanks; in an effort to put life into my body, I consumed several cups, delicious! HealthyBites, the new organic restaurant on Georgia Avenue in Northwest, thank you to Bonnie and her staff; the food court was filled with fresh fruits and vegetables for all to enjoy.
A special thank you to my church family, All Nations Baptist Church, in particular, to my pastor, the Rev. Dr. James Coleman; thank you pastor for your easy going moderation style during the workshops, and the questions and answer segment proved to be inspiring. We helped somebody, and we worked together like a well-oiled machine! This was another opportunity to bring our church theme to life – "A Church Where Christ and Community Connect!"
The workshops were very enlightening, highlighted by greetings from Ward 2 Council member Jack Evans; to Ward 6 Council member Tommy Wells; D.C. Council member Yvette Alexander, who serves as the chair of the Committee on Health attended; and a special thank you to Mayor Vincent Gray.
Finally, a special thank you to Solomon Sparrow for the coordination of the gospel entertainment! It turned out to be lovely; we had a trumpet player; a saxophone player; violinist; all accompanied by drums and piano; we had liturgical dancers; choirs and praise teams.

Partner groups showed up, and worked as promised. My sorority, Gamma Phi Delta, Delta Pi Chapter, Ms. Karen Rogers and the others came through as promised.
Like the words from the poem written by Maya Angelou, this one was for my mother, who must be thinking from heaven, "Still I Rise!"
Lyndia Grant hosts a radio talk show, Think on These Things, on WYCB 1340 AM, Radio One, Fridays at 6 p.m. She speaks all across the country, visit her website at www.lyndiagrant.com, send comments to lyndiagrant@gmail.com, or call 202-518-3192.