EDUCATION BRIEFS: Summer Food Program Operates at 41 D.C. Schools
6/19/2013, 3 p.m.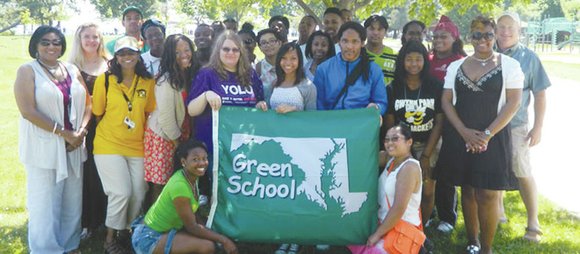 The District of Columbia Public Schools system will participate in the federally-funded Summer Food Service program, serving breakfast and lunch free of charge at 41 schools across the city. Most of the participating programs will begin on July 1 and end Aug. 2.
The summer food program is an extension of the free and reduced meals initiative that takes place during the school year. The summer program provides students with the healthy meals they may not otherwise receive while schools are closed.
For additional information, contact Robert Jaber, interim director of DCPS Food & Nutrition Services, at 202-442-6133 or robert.jaber@dc.gov
Prince George's County
Schools Earn Green Certification
Three Prince George's County public schools – Deerfield Run Elementary School, Lewisdale Elementary School and Gwynn Park High School – recently earned their Maryland Green School certification for the first time.
In addition, four other schools – Charles H. Flowers High School, Scotchtown Hills Elementary School, Laurel Elementary School and The Tanglewood School – recertified their Green School status.
"We are very proud of these schools for their 'green' efforts," said Dr. Alvin L. Crawley, interim schools superintendent. "These schools are models in their communities for best practices in environmental management and education, and prepare students to be environmental stewards beyond the classroom."
The Maryland Green School Awards program, sponsored by the Maryland Association for Environmental and Outdoor Education (MAEOE), is one of the most rigorous and comprehensive Green School certification programs in the country.
Through a non-competitive application process, schools must demonstrate their green activities and culture in eight criteria. All of the newly-certified and recertified schools and centers were honored during the MAEOE Youth Summit on May 31 at Sandy Point State Park in Anne Arundel County, Md.
Montgomery County
Board of Education Adopts $2.23 Billion Budget
The Montgomery County Board of Education has unanimously adopted a $2.23 billion Fiscal Year (FY) 2014 operating budget that will allow the school system to continue its programs. The funding will also allow city and school officials to invest in efforts to narrow the achievement gap. The FY 2014 budget represents a $57.1 million – or 2.6 percent increase over the current year.

"I want to thank the citizens of Montgomery County for their continued commitment to our students. They clearly understand that the future of our county is directly tied to our ability to prepare our students for the workplace of the 21st century," said Board of Education President Christopher S. Barclay. "This budget will allow us to manage our growth while making strategic investments so we can best serve the needs of our students."
Alexandria
T.C. Williams Students, Coach Earn Sports Awards
The T.C. Williams Crew Team held its first official practice of the 2013 spring rowing season on a cold, blustery afternoon on Feb. 19. Three state championships, two silver medals and eight bronze medals later, the Titans gathered one last time this season for an awards ceremony that recognized their significant accomplishments and to honor some of the athletes who contributed to their success.
The ceremony recently took place at the Dee Campbell Boathouse in Old Town. Attended by a crowd of more than 150 parents, family members and supporters, the ceremony featured T.C. Williams Crew coaching staff. Among those honored for their achievements: Girls' Varsity MVP - Alexandra Lemke; Girls' Coaches' Award - Nadia Magallon; Outstanding Girls' Coxswain - Rosa Procaccino; Girls' Junior Varsity MVP - Jazmin Calderon; Old Dominion Boat Club Outstanding Oarswoman - Gabriella Salcedo; Girls' Freshman MVP - Natasha Magallon; Boys' Varsity MVP - Madison Weitekamp; Boys' Coaches' Award - Jack Kane; Outstanding Boys' Coxswain - Brian Comey; Outstanding Boys' Lightweight Rower - Calvin Heimberg; Boys' Junior Varsity MVP - Tim Bender; Old Dominion Boat Club Outstanding Oarsmen - Sam Zickar; and Boys' Freshman MVP - Preston Tracy.