D.C. Mayor Gray Shares Vision for Education Reform
D.C. Mayor Vincent C. Gray said Thursday during a 40-minute speech at Savoy Elementary School in Southeast that in order to take education reform in the District to the next level, it's imperative for the city's charter and public schools to work together.
In sharing his vision for a "successful" and "sustainable" reformation, Gray told a crowd of more than 300 people that it wasn't until about 2007 that District officials began to get serious about restructuring the public school system.
As a result, school administrators "have now embraced innovation and students and teachers have clear expectations for success. But there's still a lot of work to do," he said, adding that the lack of high-quality programs for students remains an issue.
Noting the success of Thurgood Marshall Academy – the District's highest-performing charter – Gray said that the law-themed high school that sits adjacent to Savoy, is "an example of what can happen" when schools and educators are provided the right tools and resources.
He said that likewise, Savoy has been on a similar track toward educational excellence.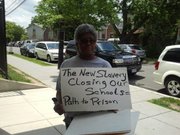 "It's no accident that we chose this location to talk about the future of education reform in the District, because Savoy and Thurgood Marshall provide a snapshot of that future," Gray said. "The creative, community-driven partnership between these two schools – one charter, one DCPS – should make us all proud of the direction of education reform in the District."
Gray said that a partnership of 26 District of Columbia Public Schools (DCPS) and charter schools next fall is an example of how the two school systems would be taking the right steps transforming local public education. But he said the pace has been slow.
"I'm not pleased with the pace of school reform in the District," Gray said. "[However,] the charters and public schools have to collaborate for that to occur."
Emphasizing "a new spirit of collaboration and problem-solving," Gray further stated that while McKinley Technology High School in Northeast and School Without Walls in Northwest will be linked to programs that serve elementary and middle school students. DCPS will also expand Benjamin Banneker High School, School Within School, and Capitol Hill Montessori to allow more students access to those schools' programs.

"The more common perception is that charter schools are taking over, and that DCPS schools are disappearing," Gray said. "We are accustomed to the language of competition, and fixated on whether we are reaching a 'tipping point' where neighborhood schools will be a thing of the past. There is a lot of fear in this narrative, and a lot of distrust," he said, adding that his vision for education reform is centered around a proposal that builds on the work that has already been done.
Gray's strategy, which is based on two years of public feedback, includes scaling up existing pockets of excellence to serve more students, strengthening current schools and programs to ensure they provide the highest-quality education to the largest number of students, and simplifying the way families access all aspects of D.C.'s education system.