Kool & the Gang Set to Perform in the D.C. Area
Legendary Group Opens for Kid Rock in Bristow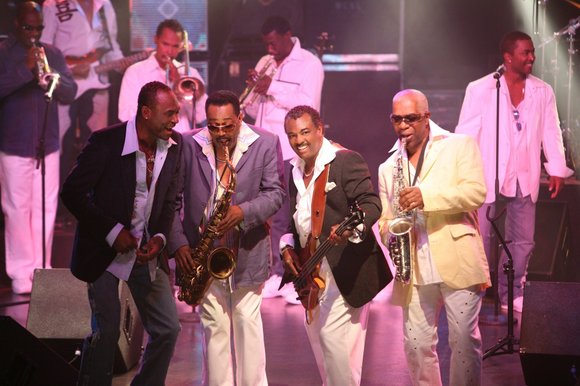 Kid Rock and Kool & The Gang as tourmates? Hmmm.
For music purists, the idea may seem a bit ridiculous, but to many fans, it's a pairing that could be cause for a celebration.
"People were surprised when we hooked up with Van Halen on tour last year. Now, I don't think there are many who are surprised because they know that we are going to keep that stage hot for Kid Rock," said Kool & The Gang bassist and co-founder, Robert "Kool" Bell.
"We talked about doing this tour, we'll do 10 shows opening for Kid Rock, and we are telling everyone to let's just go out there and have ourselves a big party," said Bell, 63.
Kid Rock's "Rebel Soul" tour arrives at Jiffy Lube Live in Bristow, Va., on Friday, June 28 at 6:45 p.m. It will also feature a performance by rocker, Uncle Kracker.
"Our management knew Kid Rock's management and Kid Rock mentioned that he wanted us to open for the whole tour," Bell said. "We had so many other commitments, [but] we agreed to do 10 shows including the show in Bristow."
Bell said fans can expect Kool & The Gang's biggest hits, including "Ladies Night," "Get Down on It," "Jungle Boogie," and "Celebration."
Rock, whose real name is Robert Ritchie, called having the legendary R&B group as his opening act, a privilege.
"They know how to do it, they know how to get the crowd going," said Rock, 42. "They are legends, plain and simple."
Now in their 50th year, Kool & The Gang has sold more than 70 million records and the group's influence has spanned three generations.
With songs like "Cherish," "Summer Badness," "Open Sesame," "Hollywood Swinging," and "Misled," Kool & The Gang has enjoyed a following that many others only dream about.
The group has won two Grammy Awards, seven American Music Awards and has had 25 top 10 R&B hits, nine top 10 pop hits, and 31 gold and platinum albums.
Led by Bell, and his brother Ronald, the celebrated band has performed longer than any R&B group in history.
"We still have four of the original guys after 50 years," Bell said. "What we are now seeing today is that music is being taught to the young again and I believe we will see more young people playing music with horn sections and doing it right."
In 1964, the Bell brothers joined their Jersey City, N.J., buddies Robert "Spike" Mickens, Dennis "Dee Tee" Thomas, Ricky Westfield, George Brown, and Charles Smith to create a unique blend of jazz, soul and funk.
"We started out calling ourselves the Jazziacs, then we were the New Dimensions, The Soul Town Band, Kool & The Flames before we finally settled on Kool & The Gang," Bell said.
Kool & The Gang immediately made a name for themselves by opening for such successful comedians and musicians as Bill Cosby, Richie Havens and Richard Pryor.
Their self-titled 1969 debut album introduced their signature instrumental sound and fierce horn arrangements, which led to their first big single, which they named, "Kool & The Gang."
To celebrate their 50th year together, Kool & The Gang plan to release their first ever Christmas album as well as a CD to mark the milestone.
"We are talking with Alicia Keys, Chicago, Bootsy Collins, Charlie Wilson and Eddie Van Halen to work with us on that CD," Bell said.
Tickets for the concert in Bristow start at $27. For more information or to purchase tickets, call 703-754-6400 or visit, www.livenation.com.