Adrien 'The Problem' Broner Wins Split-Decision Against Malignaggi
Grudge Match Caps Solid Night of Boxing at Barclays Center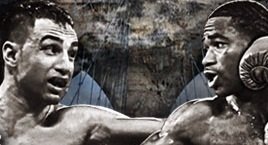 Adrien "The Problem" Broner defeated Paulie "The Magic Man" Malignaggi by split decision on Saturday night at the Barclays Center in Brooklyn, winning the WBA welterweight title and capping a full card of championship boxing.
Despite entering the bout as the reigning champion, Malignaggi (32-4, 7 KO) was a heavy underdog against the bigger and faster Broner (26-0, 22 KO). It was a classic matchup between the crafty, powerful puncher and the technical boxer. Malignaggi relied heavily on his jab in an effort to stay busy and find his range. On the other hand, Broner limited his target by staying tight in his guard and blocking most of Malignaggi's punches.
The second round became somewhat of a street brawl, as the two fighters were clinched and Malignaggi clutched Broner's left leg, prompting Broner to lift his leg to kick him off.
From that moment, Malignaggi boxed less and chose to mix it up with Broner, but his combinations didn't appear to have much impact. Broner continued to carefully pick his shots, one at a time, and effectively landed power punches with pinpoint precision.
The cumulative effect of Broner's power began to take its toll as the bout wore on. He found his rhythm and continued to land power shots, but Malignaggi kept throwing jabs and combinations.
Ultimately, Malignaggi's grit and determination weren't enough to slow Broner, and the onslaught of power shots gave the challenger the edge. Broner won a split decision, proving he is one of the best fighters in the world.
A fracas nearly erupted afterwards when Malignaggi became enraged by a Broner comment about his opponent's former girlfriend during a post-fight interview. The two eventually had to be separated.
The undercard also featured riveting action, beginning with a fight for the vacant WBC super-middleweight championship between Sakio Bika (31-5-2, 21 KO) and undefeated prospect Marco Antonio Periban (20-0, 13 KO).
Almost instantly, both boxers set an intense pace, unleashing numerous blows on each other through each round.
Periban relied heavily on his jab at the start of the fight against his smaller opponent, but Bika was able to neutralize it by charging forward and throwing heavier shots.
The action, while nonstop, did get sloppy at times. During the middle stage of the fight, there were several rounds that could have gone either way, though Bika captured the majority of the late rounds by effectively counterpunching Periban.
As the 12th and final round began, the bout appeared to be up for grabs, with each fighter letting it all hang out in the final minute in an effort to land that one big shot. Both survived until the final bell, with Bika capturing the belt by winning a majority decision.
The second fight of the night featured a rematch between two of the heavyweight division's top pugilists, WBO and NABO champion Johnathon Banks (29-1-1, 19 KO) and Seth Mitchell (25-1-1, 19 KO). The two first fought in November, with Banks stopping Mitchell in the second round.
From the very beginning of Saturday's rematch, both fighters picked up where they left off in the first fight. The second round was highlighted by Mitchell dropping Banks with a right hand, but Banks survived and continued to fight.
From the third round on, the blistering pace slowed significantly, with both fighters throwing one shot at a time. Though Banks hurt Mitchell several times with some big shots, he was not able to finish off the challenger as he did in their first bout.
Banks slowly faded late in the fight, as Mitchell landed more punches and remained more active. In the final two rounds, though, both men appeared fatigued and reluctant to throw punches. Ultimately, Mitchell was victorious, winning the belt via unanimous decision.