Community Profile: Hilary Shelton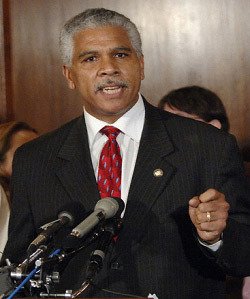 Hilary Shelton serves as director of the NAACP's Washington Bureau, where he is also a senior vice president for advocacy and policy.
The Washington Bureau NAACP is the federal legislative and national public policy division of the national organization — which boasts a membership of more than two million supporters.
In his capacity, Shelton, 54, advocates community-based needs and issues — including education, health care, affordable housing and civil rights protection — to the U.S. Congress, all federal government agencies and the White House. Shelton's government portfolio also focuses on crucial issues such as affirmative action, ending racial profiling and the abolition of the death penalty.
WI: What do you like most about D.C.?
HS: I love D.C., its diversity and vibrancy. There's always so much going on. It's also a city made up of people who very clearly talk about the issues. D.C. is unique in that people such as our representatives in Congress come to the city to be able to try to make things better back home. I like that D.C. is also an international city with representation from just about every country in the world.

WI: What do you like least about D.C.?
HS: We have the same problems encountered by any other city, including the standing issue of violence. We still struggle with high unemployment and other issues that help divide communities like mandated school closings.
WI: What's the latest book you've read or are currently reading?
HS: Right now, I'm reading two books. One is "A Way out of No Way" by Andrew Young, which is tied to the civil rights movement and the days that he worked with Dr. Martin Luther King Jr. The other — which I'm reading with my children – is "Child of the Civil Rights Movement" by Paula Young Shelton.
WI: What is your favorite thing to do at the end of the day?
HS: I like to get home to my wife and children and have a chance to catch up with them, then plan to go out and do things in this wonderful city we call Washington, D.C.