Blacks Still Face Job and Housing Discrimination
Reports Show Problems to be Pervasive, Extensive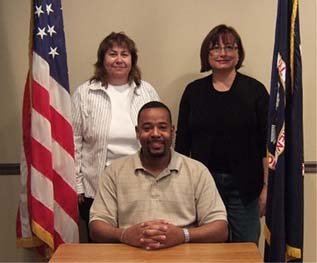 She worked in Howrey's Brussels, Belgium office from January 2009 to June 2009 when she was terminated just one day after she submitted a formal written complaint of discrimination to Howrey bosses.
Menns, the first black attorney to work in the Brussels office, alleged that she was subjected to escalating hostility and discrimination from colleagues, staff and supervisors.
"When I talked to the managing partner about the way I was being treated, he told me that what I was experiencing was racism," she said.
"He told me that the staff was reacting in that way because they had never been forced to be in a subordinate position to a black person, particularly a black woman with my level of education or who looked and spoke like I did."
The list of companies engaged in discrimination is long and includes many pillars of American industry, not just marginal or maverick firms, said Cedric Herring, a sociology and public policy professor with the University of Illinois-Chicago.
"Yet ... many of us are still mystified and hard-pressed for explanations ... in part because discrimination has become so illegitimate that companies expend millions of dollars to conceal it."
Companies manage to discriminate without using blatant racist practices characteristic of earlier days. Instead, job discrimination has become more elusive and less apparent, Herring said.
"The adage, 'it's not what you know, it's who you know,' is very true when talking about the job market," said Dedrick Muhammad, 34, senior director of economic programs for the NAACP in Northwest. "That proves to be a problem for African Americans and other people of color who are currently seeking jobs."
Donna Brazile, a Washington D.C. Democratic power broker, said African Americans must use this latest issue as impetus to become wise and proactive about their future job prospects.
"It's time we acknowledge that employment in the 21st century will require some college education," said Brazile, 53. "We must begin to leverage our economic power to lobby corporations and others to give ex-felons a second chance. Without it, we will have a permanent underclass in our society unable to find work."
Meanwhile, employment discrimination isn't the only battle facing African Americans.
The U.S. Housing and Urban Development (HUD) agency in Southwest and the Urban Institute in Northwest, released a joint report on June 10 titled, "Housing Discrimination against Racial and Ethnic Minorities 2012."
The report noted that real estate and rental housing agents do not present a fair number of options for potential minority home buyers when compared to whites.
"Fewer minorities today may be getting the door slammed in their faces, but we continue to see evidence of housing discrimination that can limit a family's housing, economic, and educational opportunities," said HUD Secretary Shaun Donovan, 47. "It's clear we still have a lot of work to do to end housing discrimination once and for all."
The forms of discrimination documented by the study are very difficult for victims to detect, said Margery Turner of the Urban Institute.
"To detect housing discrimination today, HUD and local fair housing organizations need to conduct proactive testing, especially in the sales market, where discrimination appears higher than in the rental market," she said.