D.C. Charter School Leader Honored
Foundation Awards Principal $25,000 Check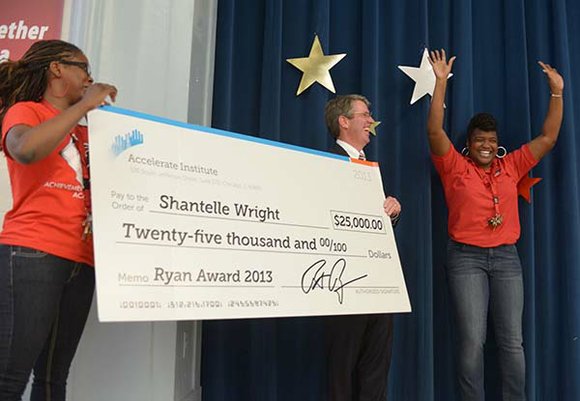 The founder and administrator of a D.C. Public Charter School has been named one of three recipients of the prestigious Ryan Award for meritorious leadership.
The award, which Shantelle Wright received on June 18, was made possible through the Patrick G. and Shirley W. Ryan Foundation. It celebrates principals nationwide who've demonstrated quick turnarounds in achievement among low-income and minority students during the past three years at schools located in historically underserved communities.
Since opening Achievement Prep in 2008, Wright has subscribed to the mantra that "every child deserves a quality public education."
She received most of her school leadership training as a participant in the "Building Excellent Schools" fellows program, a national non-profit organization based in Boston, Mass.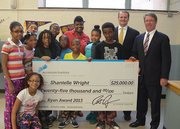 Wright, along with the other two school administrators received a $25,000 check, and will also have an opportunity to speak to the current class of Ryan Fellows at Accelerate Institute in Chicago.
"We created the Ryan Awards to highlight the leaders of the most successful transformational schools in the U.S.," said Pat Ryan, founder of the Accelerate Institute. "We want to honor these heroes and to enlist them as role models, and help current and future principals learn from their successes."
Students, parents, members of Achievement Prep's board, the D.C. Public Charter School Board and other local officials gathered last week for the assembly at the school on Wahler Place in Southeast to extend their congratulations to Wright.
According to a statement issued by Achievement Prep officials, over the past five years its 315 students – all of whom are African Americans and who live in Ward 8 – have out-performed their peers in other charter and public schools on standardized tests.
In the past the school, which offers a rigorous college preparatory program, has served 4th- through 8th-grade students. However, this fall its curriculum will expand to accommodate students from pre-kindergarten through the 8th grade at its two campuses in Ward 8.
In 2012 for instance, Achievement Prep boasted a math proficiency rate of 86.0 percent and a reading proficiency rate of 67.9 percent.
Susan Cannon, Achievement Prep's chief academic officer, said that the success achieved by students at the tuition-free school "proves that when you fully engage and equip scholars to aim high, work hard and feel great about achieving at high levels, their personal and family circumstances don't have to determine their success or failure in school or in life."
Wright, a former D.C. attorney, who was raised in a poor, urban neighborhood in upstate New York, has said that her students are academically outperforming students across the District, including their counterparts in affluent upper Northwest schools.
"All children, regardless of the color of their skin or the zip code where they live, can excel when provided with high standards [and] high accountability settings," Wright said. "We're seeing outstanding results in our scholars because we operate Achievement Prep in a high-expectation, no-excuses culture. We challenge our scholars to dream big, and it works."