D.C. Political Roundup: Reid Endorses D.C. Statehood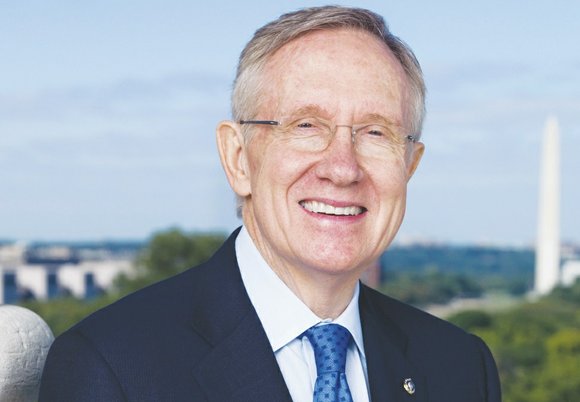 In what has to be the strongest statement by the leader of the United States Senate, Sen. Harry Reid (D-Nev.) said that he supports the District of Columbia becoming the state of New Columbia. Reid made his views on D.C. statehood known on June 19 at the unveiling of the Frederick Douglass statute in the U.S. Capitol Visitor Center's Emancipation Hall.
"Washington, D.C. residents pay taxes," said Reid, 73. "Washington, D.C. residents fight in wars. Washington D.C. residents deserve self-government and congressional representation and D.C. deserves statehood."
Sen. Thomas Carper (D-Del.) is the author of the New Columbia Admission Act (S.132) and it's co-sponsored by Assistant Majority Leader Richard Durbin (D-Ill.), Secretary of the Democratic Conference Patty Murray (D-Wash.) and Sens. Barbara Mikulski (D-Md.), Benjamin Cardin (D-Md.), Barbara Boxer (D-Calif.), Tom Harkin (D-Iowa) and Kirsten Gilibrand (D-N.Y.). A hearing date has not been set on the bill.
D.C. Del. Eleanor Holmes Norton (D) couldn't be more pleased with Reid's stance.
"Senator Reid has always been a good friend to the District of Columbia," said Norton, 75. "He has worked closely with me in our fight for voting rights and greater home rule. The majority leader's remarks today, however, set a new congressional standard for advocacy of D.C. statehood."
Norton said that Senate majority leaders rarely co-sponsor bills and she hopes that will prompt other Democrats to get on the pro-D.C. statehood bandwagon. DC Vote Executive Director Kimberly Perry applauds Reid for his position.

"DC Vote is grateful for Senator Reid's co-sponsorship and vocal support for the D.C. statehood bill," said Perry, 42. "We hope the majority leader uses his position to prompt action and bring this bill to the floor of the Senate. In doing so, he will not only begin the process of giving D.C. residents their rightful place in American democracy, but also put the District's lack of voting representation in the Congress squarely before the entire nation."
Bowser Campaigns in Eastern Washington
D.C. Council member Muriel Bowser (D-Ward 4), a candidate for the 2014 Democratic Party nomination for mayor, took her campaign east of the Anacostia River on Saturday, June 22, culminating in a fundraiser held at the Southeast home of Calvin Nophlin.
Nophlin agreed to host the event, which drew dozens of people from around the city for Bowser because he believes that she will be a great mayor for the District.
"I am concerned about communities east of the river," said Nophlin, 75. "We have enough poverty and bad schools and we don't have the amenities that other parts of the city have. We are the last place of refuge for the poor."
Bowser, 40, has spent the past few weeks in Wards 7 and 8 knocking on doors and attending meetings of organizations such as the Ward 7 Democrats. Walter J. Garcia II, a Ward 7 advisory neighborhood commissioner who represents the Deanwood neighborhood in Northeast, said he thinks that Bowser has an opportunity to gain a lot of support in his area.
Garcia said that residents are disappointed in D.C. Mayor Vincent Gray (D), who once represented Ward 7 on the D.C. Council.
"I support Muriel and there are thousands of Ward 7 residents who feel the same way I do," said Garcia, 49. "We get no support from the current mayor. It is embarrassing to people of color the scandals that are taking place and he is on the top of the list."
Bowser has pledged, if elected mayor, that she will bring more economic development projects to eastern Washington and promises to deliver better city services to residents in Wards 7 and 8. She has also pledged to have ethical members in her administration.
Ward 8 businessman Phinis Jones and Terry Lynch, a Ward 1 activist who is considering a run against D.C. Council member Jim Graham (D-Ward 1), are notables who attended the Bowser event. Nophlin said that east of the river communities need Bowser to focus on their issues.
"We will support her if she supports us," he said.