Emmanuel Cleaver Preaches at Shiloh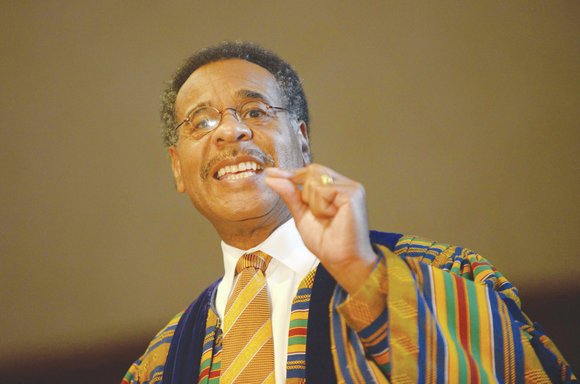 A prominent black congressman delivered a stirring address on the importance of fighting the darkness in the human soul at the 150th anniversary of one of the District's well-known churches.
U.S. Rep. Emmanuel Cleaver II (D-Mo.), who is a minister in the United Methodist Church and led the Congressional Black Caucus from 2011-2013, served as the guest minister for the month of June at Shiloh Baptist Church in Northwest on Sunday, June 23. Shiloh's senior pastor, the Rev. Wallace Charles Smith, said that Cleaver has a reputation as being an electrifying speaker and that the congressman is a legend in his own time.
"Over the years he has been a tireless champion of justice," Smith said. "We know that his preaching will both challenge and inspire us."
Cleaver, the first black mayor of Kansas City, Mo., and the second black to represent the city and several of its suburbs in the U.S. House of Representatives, didn't disappoint Smith or the congregation as he proceeded to point out human frailties in his sermon "Treasures in Darkness." In the presence of two congressional colleagues – U.S. Reps. Mel Watt (D-N.C.) and G.K. Butterfield (D-N.C.), Cleaver, 68, talked about how he hated being in the dark as a child and how he deals with the spiritual meaning of darkness.
"God did not like the darkness," Cleaver said. "God said 'Let there be light' and light appeared. God saw the light and said that was good."
Nor, did Cleaver hesitate to define the present U.S. Congress as lacking enlightenment.
"Congress has become a dark place," he said. "Congress has become pitch black."
He proceeded in a rolling cadence to explain how the political body has lost its moral compass.
"It is pitch black when President Obama is interrupted by [U.S. Representative] Joe Wilson during a State of the Union address by being called a liar," Cleaver said. "It is pitch black when a congressman sends lewd pictures to congressional pages. It is pitch black when there is drug testing for food stamp recipients but there are no drug tests for bankers who get money from the government."
He said that his colleagues seem to be committed to the next election instead of supporting the next generation.
However, Cleaver did say that there can be treasures in the darkness. He used an example of a former Kansas City Council member who served three years in jail for bribery and pointed out that the former politician said that going to prison was the best thing that could have happened to him.
"He saw how ugly the life he was leading was," Cleaver said. "It was then that he made a change. He said that he learned a lot about himself in the darkness."
Shiloh is known nationally for its ministries to help the poor in the District and its advocacy on behalf of civil rights. The church has been visited by Presidents Ronald Reagan, George H.W. Bush, Bill Clinton and Barack Obama and other prominent figures such as Evangelist Billy Graham Jr., the late Sen. Edward Kennedy and U.S. Rep. John Lewis (D-Ga.).
Cleaver urged Shiloh to continue to do its work.
"This church has been around for 150 years," he said. "It is the light of the community."