Functional, Stylish Subaru Tops Safety Ratings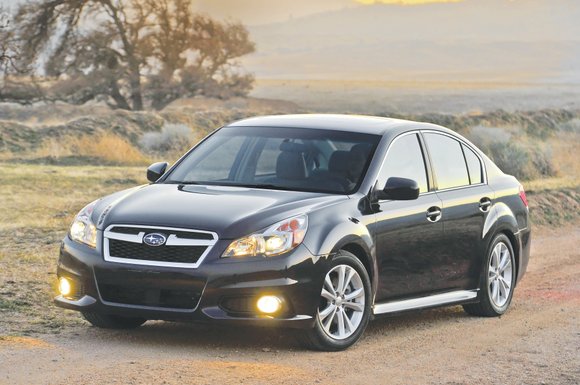 Japanese carmaker Subaru is best known for its sturdy and versatile station wagons. But one of Subaru's best vehicles, the Legacy, is offered only as a sedan. It's also a car that flies below the radar of midsize sedan shoppers who continue to buy Honda Accords, Ford Fusions, Toyota Camrys and Nissan Altimas in ever increasing numbers.
But in a group of well-mannered and homogeneous midsize family sedans, the 2013 Subaru Legacy is an attractive choice for the right kind of car shopper. Though it lacks the stellar fuel economy of the Nissan Altima or the avant-garde design of the new Ford Fusion, the Legacy has its share of virtues.
By itself, the Toyota Camry outsells the entire Subaru lineup; yet according to industry sources, just about everything Subaru sells is flying off dealers' lots this year. Its May sales represented a 34 percent increase over May 2012 and the best sales month in company history. Year-to-date sales for Subaru show a 21 percent increase over the same period in 2012.
Subaru, one of Japan's smaller automakers, is surviving in the tough U.S. market by focusing on really being good at a very few things. With only limited resources, Subaru sidesteps heavyweights by offering vehicles that excel in safety and reliability. A Consumer Reports magazine survey rated the company's cars as some of the best in America. In a recent feature, it ranked Subaru above most manufacturers, including Mercedes-Benz and BMW in comfort, utility, and reliability.
Automotive Lease Guide (ALG) which is the industry's arbiter of residual value and used-car prices, named Subaru the leader in retained value among mainstream brands. And after crash tests, the Insurance Institute for Highway Safety made Subaru a "top safety pick" across its entire product line, a distinction no other manufacturer can claim.
I recently drove the Legacy for more than a week, covering the crowded Washington, D.C. Metro area and wide stretches of Maryland and Virginia countryside. Whether in stop-and-go District of Columbia rush-hour traffic or wide stretches of rural Maryland, the Subaru gave better than decent power, and of the cars mentioned above, I'd argue this is among the most comfortable. A huge back seat and cavernous trunk are definite pluses also.
As with most Subarus, all-wheel drive is the big selling point, since the Legacy is the only car in its class to offer this as standard equipment. In the past, this also meant mediocre fuel economy due to internal friction that is the nature of all-wheel drive, but this year Subaru has introduced a more fuel-efficient four-cylinder engine. When paired with Subaru's second-generation CVT, the all-wheel-drive 2013 Subaru Legacy with a four-cylinder engine returns 27 mpg combined, a figure that's quite close to that of the front-wheel-drive versions of the Honda Accord and Toyota Camry with four-cylinder engines.
For 2013, the Legacy now has standard Bluetooth, USB and auxiliary audio jacks and an electronic parking brake. Our test car also came with dual-zone climate control, navigation, a rearview camera and a high-end audio system. Topping it all was one of Subaru's best options – the Eyesight driver assist system, which includes adaptive cruise control, pre-collision braking (at speeds less than 19 mph) and lane departure warning.
Pricing ranges from $19,831 to just below $29,000 depending on options, the transmission and engine size.