Phyllis Hyman: A Voice Quieted Too Soon
Singer Died Tragically 18 Years Ago
Phyllis Hyman possessed both beauty and brains.
But, it was the singer's powerful voice that captivated so many during her relatively brief music career.
"I never heard anyone sing like Phyllis Hyman," said Norman Connors, who produced many of Hyman's biggest hits, such as the remake of the Stylistics classic, "Betcha By Golly Wow."
"She had no fear, she was amazing," said Connors, 63.
Hyman died just days before her 46th birthday on June 30, 1995, after overdosing on sleeping pills in her New York apartment, on the East side of Manhattan.
She was found unconscious just hours before a scheduled performance at the famed Apollo Theater.
Hyman's death was declared a suicide and authorities found a note which read: "I'm tired. I'm tired. Those of you that I love know who you are. May God bless you."
She was a popular jazz club singer in New York when Connors discovered her during a performance at a local jazz club in 1975. He immediately recruited her to sing, "Betcha By Golly Wow," on his 1976, "You Are My Starship," album.
That performance resulted in Hyman being signed by Buddah Records, where she would release her self-titled solo debut album.
Born in Philadelphia on July 6, 1949, Hyman grew up listening to the music of James Brown, Karen Carpenter and Minnie Ripperton.
Hyman ultimately recorded nine solo albums between 1977 and 1995, scoring many hits on the pop and R&B music charts. She was named Best New R&B Vocalist by Record World magazine in 1977 and the title song from her best selling 1979 album, "You Know How to Love Me," has proven to be her signature tune.
Two years later, Hyman released the single, "Can't We Fall in Love Again," a duet with Michael Henderson, which soared onto the Top 10 pop music charts.
"She stood out in the family as being a star even when we needed her as the watchdog of the family," Jean Hyman, Phyllis' younger sister said in a TV One interview last year. "I heard a song on the radio playing and then I heard just one voice singing, so I walked down the hallway [in our home] and realized that it was Phyllis singing and she sounded better than anyone on the radio," she said.
Hyman's voice also could be heard on several commercial jingles for companies that included Burger King, Welch's Grape Drink, Sasson Jeans, American Airlines, Clairol and others.
In 1981, she landed a part on Broadway in the Duke Ellington musical, "Sophisticated Ladies." Her rendition of jazz standards such as, "It Don't Mean a Thing," and "In a Sentimental Mood," earned her a Tony Award nomination for Best Supporting Actress in a Musical and a Theatre World Award for Most Promising New Talent.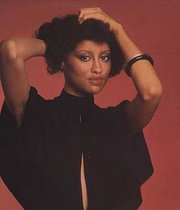 She went on to collaborate with The O'Jays, Grover Washington Jr., the legendary Four Tops and others.
Hyman also made her mark as an actress, appearing in such films as "Lenny," "Too Scared to Scream," Spike Lee's "School Daze," and "The Doorman."