THE RELIGION CORNER: 'Make it Through the Night'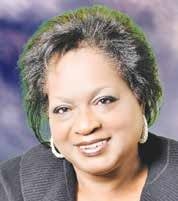 This week's column inspired by my son Ron Briggs, who sent me a link to a Dianne Reeves song, titled "Better Days." As her grandmother tucked her in, she said, "You will know someday; but you have got to live in a patient way. God put us here by fate and by fate that means better days. She said, child we are all moons in the dark of night; ain't no mornings gonna come till the time is right. Can't get no better days lest you make it through the night; You gotta make it through the night. Yes you do. You can't get to no better days unless you make it through the night."
The message from this song reminds me of my own recent episode of gloom and despair! For the past few years, it has been one thing after another, one endless night! But better days have finally come, praise God!
My night time experiences included my health, enormous weight gain; being diagnosed with diabetes, feeling really fatigued all day, every day; money was low, could hardly make ends meet; had some troubles with my car, had to move a lot back-and-forth, and on and on it went; it seemed like my night would never end!
Yet finally, I did make it to a better day. Just like the song says, "Can't get no better days lest you make it through the night." Those words are true for you and for me. No matter how bad it seems; whether your night is a month, years, or only a few days; just make it through, until the morning light! You can't get no better days unless you make it through the night!
Here's how you and I can make it: First, keep your hand in God's hand, and never give up on your dream. Rod Stewart said, "You don't need no restrictions, you can't live on sympathy.
You just need to go the distance, that's all you need to be free." Children, don't stop, you can't stop. Just make it through the night. You can't get to better days, unless you make it through the night. Earl Nightingale reminds us how key attitude is, he said, "A great attitude does much more than turn on the lights in our worlds; it seems to magically connect us to all sorts of serendipitous opportunities that were somehow absent before the change."

And Albert Einstein said this about making it through the night …"I think and think for months and years, ninety-nine times, the conclusion is false. The hundredth time I am right."

And I love how Michael Jordan put it; he said, "I have missed more than 9,000 shots in my career. I have lost almost 300 games. On 26 occasions I have been entrusted to take the game winning shot ... and I missed. I have failed over and over and over again in my life. And that's precisely why I succeed."
Now let us be reminded of what scripture has to say about making it through the night: Jeremiah 29:11-13 says, "For I know the plans that I have for you, declares the LORD, plans for welfare and not for calamity to give you a future and a hope. Then you will call upon Me and come and pray to Me, and I will listen to you. And you will seek Me and find Me, when you search for Me with all your heart."
Isaiah 43:2-3 says, "When you pass through the waters, I will be with you; And through the rivers, they will not overflow you. When you walk through the fire, you will not be scorched, nor will the flame burn you."
Lyndia Grant hosts a radio talk show, Think on These Things, on WYCB 1340 AM, Radio One, Fridays at 6 p.m. She speaks all across the country, visit her website at www.lyndiagrant.com, send comments to lyndiagrant@gmail.com, or call 202-518-3192.