Scores Give up Guns for Gift Cards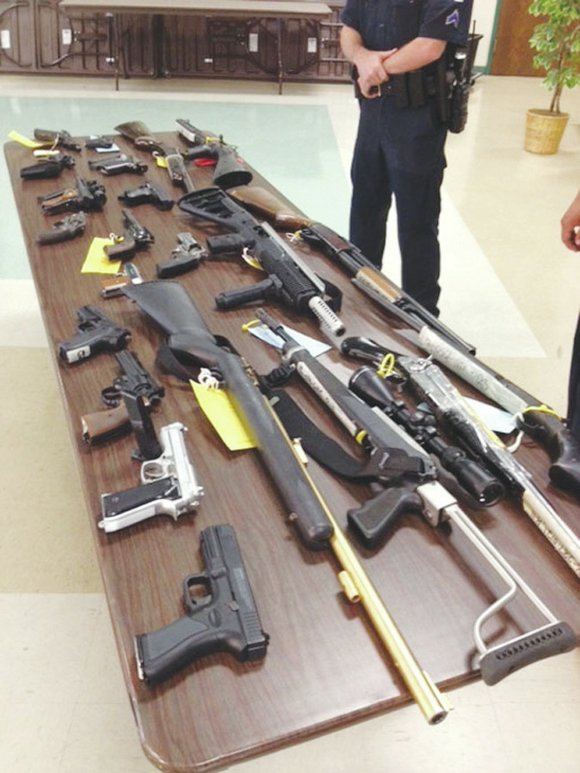 A few less guns are on the streets in Forest Heights thanks to a gun exchange event.
"Gift Cards for Guns" was held June 22 at Abundant Life Ministries Church on Livingston Road in Forest Heights resulted in 61 weapons and about six look-alike weapons being turned in, said Colonel Stewart Russell with the Forest Heights Police Department.
"Anytime you have a community with less guns that don't serve a purpose makes that community safer," said Russell.
The goal of "Gift Cards for Guns" is to reduce the number of guns, especially illegal guns, on the street, and provide a non-punitive process for citizens with unwanted firearms to safely surrender those weapons without fear of prosecution.
Individuals relinquishing automatic weapons received $100 gift cards and those turning in shotguns and rifles were given $50 cards, Russell said. Replicas of weapons earned $25 gift cards.
No questions were asked at the event, which led to an array of handguns, shotguns and automatic weapons being turned in.
Russell said one of the more highly valued weapons turned over was a chrome-plated Tech-9 weapon that a landscaper said he found in a yard. He also noted that one man with a heart condition was helped from his van and couldn't make it all the way into the church. However, police representatives processed his weapon in the facility's entrance. Several people also brought in black powder pistols.
This is the first time "Gift Cards for Guns" has been held in Forest Heights. Russell said the idea was brought to him by two Forest Heights officials – Mayor Jacqueline Goodall and Councilwoman Cynthia Mann. Before launching the event, they researched similar programs held in the county including one put on by the Laurel Police Department that drew more than 100 weapons.
"We try to be very progressive in Forest Heights," said Russell.
Russell said that for a community of Forest Heights' size – 2,400 residents and 945 homes – getting 68 weapons turned in means they won't be stolen from a home and end up in the hands of criminals or a child or adult who might accidentally shoot themselves or someone else.
Russell said holding the event at a church helped with the turnout, especially among those who might have been suspicious and reluctant to walk into a police facility.
He also attributed the event's success to the collaboration among government, business, a community organization and a religious group. IHOP in Oxon Hill provided breakfast and Chick-fil-A in District Heights provided lunch for volunteers.
"Collectively, these entities come together for the community's good to make Maryland safe as a place to work and live," said Russell.
Forest Heights government along with matching funds from Prince George's County Council Vice Chair Obie Patterson's office covered the cost of the gift cards.
"I am proud to host this event with the Town of Forest Heights, Abundant Life Ministries, the NAACP and other community stakeholders in an effort to reduce the number of gun-related crimes and encourage safe communities," said Patterson.
The Prince George's County Police Department took possession of the weapons and will check serial numbers to determine if any of the weapons were stolen so they might be returned to their owners. All remaining weapons will be melted down.