Sculptor's Bronze of Douglass Finds a Permanent Home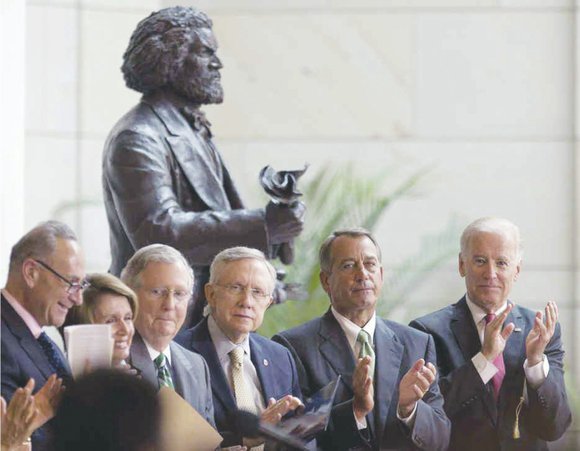 For more than two years, the statue of Frederick Douglass stood in the foyer of One Judiciary Square in Northwest, destined for the Capitol but stuck in a political and legislative limbo.
But all that changed on June 19 after more than a decade of efforts to get a statue representing the District of Columbia in Congress' Statuary Hall culminated with a stirring dedication ceremony of a 7-foot statue of Douglass, a renowned abolitionist, orator, author and diplomat.
Vice President Joe Biden, House Speaker John Boehner, House Minority Leader Nancy Pelosi, D.C. Delegate Eleanor Holmes Norton, GOP Chairman Reince Priebus, Douglass descendants, and a host of D.C. politicos, luminaries and residents crowded into Emancipation Hall at the Capitol Visitor's Center for the unveiling.
"When it comes to equality in our country, Frederick Douglass' voice is still being heard. Indeed, it is appropriate that his statue would represent the District of Columbia for his advocacy of D.C. voting rights and his decision to spend the last years of his life at Cedar Hill in Washington," Pelosi said. "Today, the more than 600,000 citizens of Washington will see a statue finally representing them in Emancipation Hall in the Capitol – a tribute to him and again, to the relentless leadership of Congresswoman Eleanor Holmes Norton."
"We know that a single statue is not enough. What Frederick Douglass and so many of us want is full representation in the halls of Congress. As Frederick Douglass wrote of the people of D.C., 'They have neither voice nor vote.' And it is incumbent upon all of us to right this wrong of history and to afford the District of Columbia the voice it deserves."
Biden said the same.

"Many District representatives and residents like Rep. Norton can trace their families back to former slaves who entered this District seeking freedom and helped build this city," he said. "The people of the District made the right choice in selecting Frederick Douglass as their representative, and they put both Eleanor Holmes Norton and Frederick Douglass in this Capitol, and quite frankly, I don't see either of them leaving until all District residents get their voice."
Douglass was born enslaved but escaped in 1838 by putting on a sailor's uniform, boarding a train in Havre de Grace, Md., and making his way to New York. Douglass taught himself to read and write, with the help of his master's wife, and later established The North Star, the largest African-American newspaper at the time. He was as an unapologetic crusader seeking freedom and equality of blacks and women.
The dedication thrust sculptor Steven Weitzman into the limelight.
Of the dedication ceremony he said simply: "What a grand affair it was…"
Weitzman struggled to put into words how thrilled he is to have created the Douglass statue.
"Truly it's an honor and a privilege beyond my ability to fathom," he said. "I knew of Douglass and some of his history when I competed. But as I researched him I realized the profundity, power and significance of this man. How do you create an image of someone who's so dynamic in a movement or capture a gesture in a finite piece?