Sculptor's Bronze of Douglass Finds a Permanent Home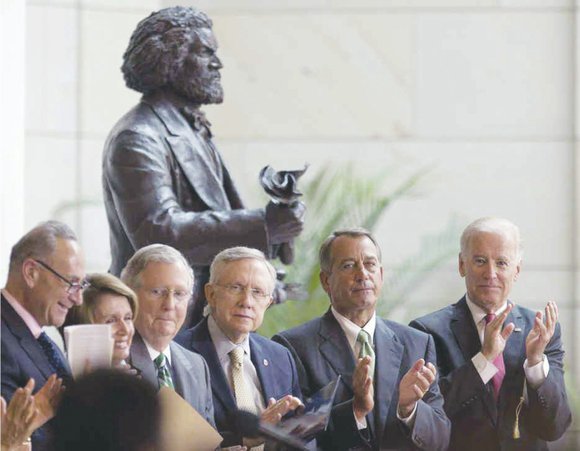 Weitzman, New York born and Los Angeles raised, is a nationally acclaimed artist and sculptor and master of the multi-disciplinary approach to public art. His 40-year career includes commissions, urban and environmental designs, heroic scale figurative bronze, glass and terrazzo artwork, and large-scale highway and bridge projects.
An entrepreneur and innovator, he runs three separate but related businesses under one roof in his Hyattsville, Md., studio and offices.
He moves between creating bas relief structures that may be as high as 25-feet tall and four miles long, creating roadside sculptures, as well as working as a painter, illustrator and commercial artist.
He has created wing walls on sections of highways in several states; developed and installed the multimedia, interactive flooring for the new cutting-edge, 200,000-square-foot museum at the History Colorado Center in Denver; and using a proprietary process he developed called fotera®– or color-controlled concrete – he cast a pictorial timeline of West Atlanta on 1000 feet of sidewalk; and he juggles projects on commercial buildings, and for municipalities, arts commissions and organizations.
"I've always known with the fullest memory that I wanted to be an artist," said Weitzman, who spent his formative years in Colorado. "I've been a freelance artist since I was 19. It's a blessing and a curse. I enjoy the creative process most of all. And doing it on the scale I have is what I never expected."
He describes himself as leader, artist, scheduler, designer and lead sculptor of his company and his 11 employees.
"I do the detail work. I'm the precision person and they support me, depending on the job," said Weitzman. "I do the majority of the work but I guide them. I have an overview of the big picture. We generally work on 10 jobs at the same time. Every minute, every hour – it's like a dance, a symphony. Everyone has to work together. More and more though, my brilliant staff can anticipate things and work on projects."
Weitzman said his team has never been late in bringing in a project and has never come in over budget.
Through it all, his father's considerable influence continues to loom large, he said.
"My father died of cancer when he was 41," Weitzman said. "He was a graphic and commercial artist, illustrator, oil painter, sculptor, furniture maker and jeweler. I am all this and my brother became a jeweler. It comes through the genes or through the Spirits."
Pictures and graphics Weitzman's father created claim prominent spots on his office walls. There's an Edison-Mazda calendar from July 1931; a color rendition of a Harvest Festival in Central Park in 1936; and a cityscape with a Puerto Rican man, a basket on his head standing in an alleyway.
"Using hindsight as a guide, I am so privileged to do this," Weitzman said. "I think what's really unusual is that in my conversations with other people, I have always known what I was going to do in the future at age 4. It was already preordained."
"The whole thing humbles me. It's not formulaic. It's really up to Providence. Just because we have the vision doesn't mean it will be realized. We're dealing with the ephemeral and we can see it and feel it all around us. It's fitting symbols in a manner that produces an emotion. Someone laughs, weeps and cries. It's a privilege and a responsibility."