Italy's First Black Cabinet Minister Criticized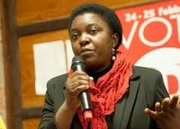 Cecile Kyenge's appointment as Italy's first Black Cabinet minister has exposed the nation's ugly race problem, with one politician deriding what he called Italy's new "bonga bonga government," according to a report on Newsone.com.
The report goes on to state that on Wednesday, May 1, amid increasing revulsion over the reaction, the government authorized an investigation into neo-fascist websites whose members called Kyenge "Congolese monkey" and other epithets.
Kyenge, 48, was born in Congo and moved to Italy three decades ago to study medicine. An eye surgeon, she lives in Modena with her Italian husband and two children. She was active in local center-left politics before winning a seat in the lower Chamber of Deputies in February elections.
In addition to his "bonga bonga" slur, Mario Borghezio, a European parliamentarian for the League, warned in an interview with Radio 24 that Kyenge would try to "impose tribal traditions" from her native Congo on Italy.
Kyenge recently responded to the insults, thanking those who had come to her defense and taking a veiled jab at the vulgarity of her critics. "I believe even criticism can inform if it's done with respect," she tweeted.