CBC Fights Cost of Prison Calls
D.C. Resident Began Battle More than a Decade Ago
Stacy M. Brown | 5/7/2013, 8:34 p.m. | Updated on 5/7/2013, 8:34 p.m.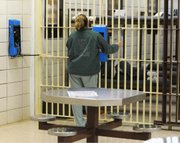 Communicating with loved ones while incarcerated isn't easy for most prisoners jailed in the United States.
For many, even telephone calls are off limits because of the exorbitant cost.
"That's what I had to face for so long," said Ulandis Forte, a Northeast Washington, D.C., resident and former inmate who spent 18 years in various prisons throughout the country until his release in 2012.
Forte said what helped to keep him strong, focused and sane during his near two-decade incarceration were the phone calls he was able to make to his grandmother, Martha Wright.
"The calls were everything. It was what I looked forward to all of the time," he said. "My grandmother is a special woman, she was my support system and she gave me love," Forte said.
Wright, 87, often couldn't afford to accept the collect calls from prisons scattered throughout the U.S. Sometimes, she'd just pick up the phone to hear his voice before declining the charges.
Forte and Wright not only thought of themselves, but others as well. "There were inmates who never were able to call because they had no money and what I'd do is tell my grandmother to contact their family members to deliver messages," said Forte, 39.
That too proved a difficult task for Wright because she's legally blind, so she would have to memorize telephone numbers and messages for strangers. "It is unfair that people can't talk to their loved ones," Forte said.
Wright filed a class action lawsuit in 2000 against private prison telephone companies regarding their services and charges. The U.S District Court for the District of Columbia in Northwest Washington, D.C., dismissed her lawsuit and directed her to petition the Federal Communications Commission (FCC).
Three years later, she filed a petition with the FCC over the high telephone rates for inmates to call loved ones. She filed a second petition with the FCC in 2007.
Now, the Congressional Black Caucus (CBC) has joined Wright in her battle.
During a news conference in the Capitol Visitors Center on April 24, CBC officials asked the FCC to move quickly to slash the excessive costs.
CBC Chair Marcia Fudge, (D-Ohio), and Delegate Eleanor Holmes Norton (D-D.C.), said the rates are about $4 per phone call, with up to an additional 55 cents per minute for long distance calls. Most calls from jail are long distance, both congresswomen noted.
Holmes Norton said the high phone rates disproportionately affect African Americans and Hispanics who make up more than 60 percent of the prison population nationwide.
"The astronomical fees are predatory and are being perpetuated by the phone companies and prisons, creating a mini-monopoly," said Holmes Norton, 75.
The profits from the calls are sometimes shared with sheriffs' who say they use the money for security needs, Holmes Norton added.
The charges are outrageous and create monthly phone bills that sometimes exceed $300, said Rep. Hank Johnson, (D-Ga.).
"It's criminal. For more than 10 years, families of inmates have been fighting the high call rates, which often shut down communication with loved ones and increase the likelihood of recidivism," said Johnson, 58.