Church Honored with Street Dedication
Shevry Lassiter | 5/7/2013, 8:27 p.m. | Updated on 5/7/2013, 8:27 p.m.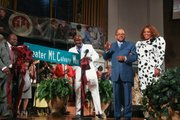 A celebratory street dedication and sign unveiling of Greater Mt. Calvary Way was held during the Sunday morning worship service at Greater Mt. Calvary Holy Church in Northeast on May 5.
Church officers surprised Senior Pastor Archbishop Alfred A. Owens Jr. and Co-Pastor Susie C. Owens with the official ceremony on the church's 47th anniversary.
Attending the ceremony were Council Chair Phil Mendelson, Council Member Kenyan McDuffie, At-Large Council Member Anita Bonds, and D.C. Commission on the Aging Commissioner Romaine B. Thomas, wife of the late Ward 5 Council member Harry B. Thomas Sr. and mother of former Ward 5 Council member Harry B. Thomas Jr.
Mendelson praised the work of the church in the community and a resolution issued by the Council of the District of Columbia was read to the 4,000 church members witnessing the dedication.
"The ceremony to dedicate the street unveiling is a great occasion. Greater Mt. Calvary has been a beacon of light and hope in the Ward 5 community," said Mendelson.
McDuffie said, "Rhode Island Avenue has changed so much over the years in a positive way because of institutions like Greater Mt. Calvary." He praised the church for being a pillar in the community for several decades.
Greater Mt. Calvary Holy Church was established by Owens in 1966 and has grown tremendously representing approximately 8,000 members.
"When we moved here over 20 years ago this [area] was drug and alcohol infested and you couldn't walk the streets and God used us to clean up the area from 10th Street all the way down to 4th Street and we give God the glory for that, He helped us clean this area up so that others can move in and change the community," said Archbishop Owens.