Gray Discharges Children's Budget Report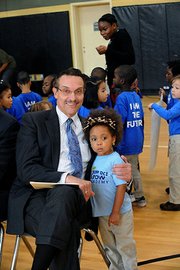 The mayor of the District of Columbia recently released a report that focuses on how children will be helped by his proposed 2014 budget. D.C. Mayor Vincent Gray made public his Fiscal Year 2014 Children's Budget Report, which explains funding details for programs that help children, youth and families on Friday, May 3. It is the third time he has delivered this type of report since becoming mayor in 2011.
"My proposed budget prioritizes children and youth-including increasing funding for education by more than $79 million," Gray, 70, said. "Affordable housing gets a boost of $100 million. Libraries, truancy and recreation also see major increases in the fiscal year 2014 proposed budget."
Gray is known to be a strong advocate for the development of the District's young people. In 2005, as a member of the D.C. Council, he led the effort to have the council to produce an annual Children's Budget Report among their budget documents.
When he served as chairman of the D.C. Council from 2007-2011, he held monthly youth town hall meetings at the John A. Wilson Building in Northwest to hear their concerns.
He has continued to communicate with young people since becoming mayor by holding town hall meetings, actively engaging the city's youth mayors and beefing up the summer youth employment program. The operating budget has $2.1 billion for children, youth and family programs, nearly 21 percent of the total budget.
Gray said that helping young people develop to their full potential is a priority for his administration.
"I am proud to invest in the present and future of our children and youth," he said. "I encourage District residents to read the report."