Everything Old is New Again: Washington National Opera Revives American Musical 'Show Boat'
5/22/2013, 9:28 a.m.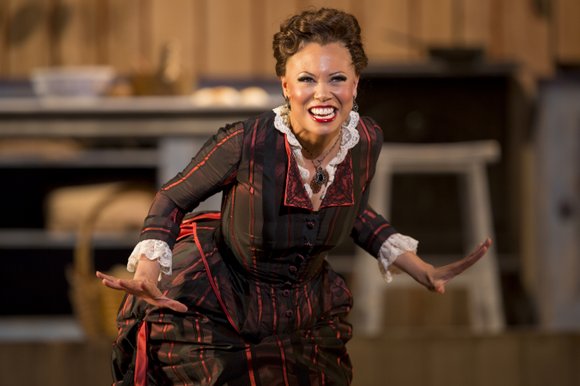 As the season closes out, the Washington National Opera decided to put on a spectacle on stage, pulled out of the historical archival roots of American musical theater. Dusted-off and lavishly produced, "Show Boat," with music by Jerome Kern and Oscar Hammerstein II, is as glorious as one can imagine it was in 1927. Based on the novel by Edna Ferber, "Show Boat," is considered the "first true American opera," according to Washington National Opera Artistic Director Francesca Zambello.
The timeless musical, made into several film and stage versions, is presented as it was originally performed, including language that now seems outdated and patronizing. "Show Boat," tells the story of the lives of a troupe of performers over a span of decades, living and working on the Cotton Blossom.
At the helm of the Cotton Blossom, Captain Andy Hawks, (played by Lara Teeter and Wynn Harmon) leads a production of song-and-dance for audiences on stops along the Mississippi River in the Old South, where African Americans were primarily the help, given an occasional acting part in the production.
Leading lady in the show, Julie LaVerne (Alyson Cambridge and Talise Trevigne), married to leading man Steve Baker (Patrick Cummings), are the stars until their secret is revealed. Steve is white and Julie is biracial. In the south of the late 20s, interracial marriage was banned, and blacks were still referred to as "colored."
The captain's daughter, Magnolia (Andriana Chuchman and Jennifer Holloway) is forced to take over the lead when Julie and Steve have to quit and flee after the sheriff declares their union, and ability to perform together, illegal.
Not only does "Show Boat," reflect the terminology of the time it was created, but it also focuses on the racial inequality that existed during the time period when the show was on Broadway and beyond. As real as it was in fiction, Jim Crow laws remained intact when actress and singer Lena Horne was passed over for the role of Julie in favor of white actress Ava Gardner, due to laws that still prohibited interracial acting.
"Julie is an extremely complex character," said Cambridge, who plays the tragic performer along with Trevigne. "What is so interesting about Julie in this production is that you really only see her in two major scenes. You see her as this bright, shining charismatic, lovely leading lady of the show boat in the beginning. You see her wonderful relationship with Magnolia in the beginning, and she seems so full of life and happiness," she said. "What you don't know until it is revealed at the end of Act I, is that she is half-black."
"You don't see Julie until Act II, years later," said Cambridge. "What you see of her in that scene is that she has obviously succumbed to alcoholism. You know in a few brief exchanges of dialogue that Steve, her husband has left her, and she really is a shell of the woman she once was."
The rest of the plot follows the story of Magnolia's rise to showbiz fame after a disastrous marriage to riverboat gambler Gaylord Ravanel (Michael Todd Simpson and Rod Gilfry) falls apart.
Supporting the riverboat cast are Joe (Morris Robinson and Soloman Howard) and Queenie (Angela Renée Simpson and Gwendolyn Brown), the help on the riverboat.
What appeals to the popular sentiment is the music, as stirring and familiar as it was when Paul Robeson's bass baritone thundered out the signature song, "Ol' Man River." On Opening Night, Robinson's booming voice created the same awe and musical magic that never seems to fade with time. "Can't Help Lovin' Dat Man," "Make Believe," and other tunes are accompanied by a live 50-piece orchestra, adding to the grandness of a 100-member cast.
The choreography of the crowds of dancers and singers, mastered by Michele Lynch, is visually stunning, as are the period costumes. Costume designer Paul Tazewell, spared no expense on multiple costume changes for the workers, vaudevillians and the cast.
The visual feast for the eyes of movement and color makes this production of "Show Boat," a wholly satisfying production that's entertaining, and a refreshing departure from classical opera.
WNO's production of "Show Boat," sails on at the Kennedy Center's Opera House through May 26th. For tickets and additional information, visit www.kennedy-center.org, or call (202) 467-4600.