Forming a Network of Innovation and Entrepreneurship
5/22/2013, 8:58 p.m.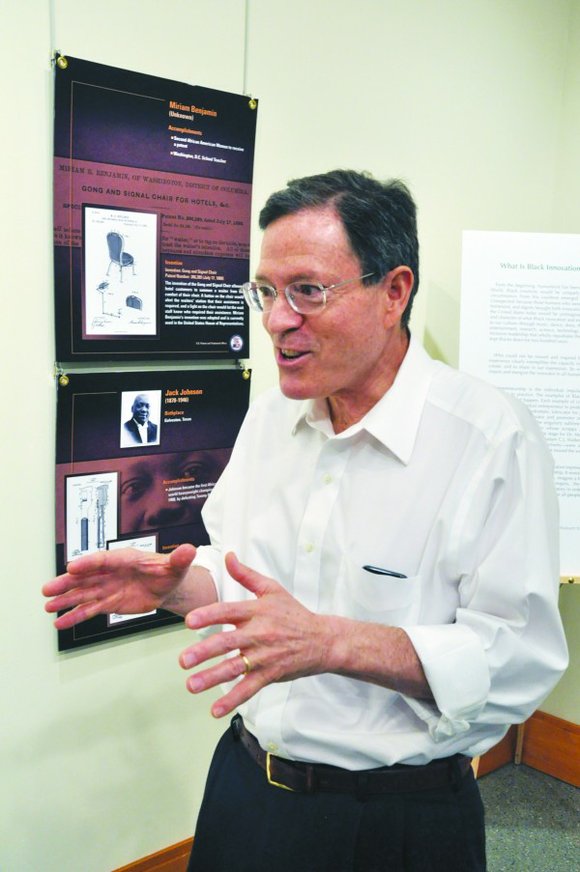 The love for black hair products prompted two young chemists to create a hair care product line designed to meet the needs of ethnic hair. Dr. Tiffani Bailey Lash and Dr. Tashni-Ann Dubroy, who earned their doctorates at North Carolina State University, launched the company, Tea and Honey Blends in 2009, to formulate products to keep hair healthy and strong.
"This has been an amazing journey," said Bailey Lash, 32, during an opening reception for the Museum for Black Innovation and Entrepreneurship (MBIE) in its temporary space at THEARC in Southeast earlier this spring. "Our product is unique as we don't use harsh chemicals; only natural ingredients." Based in North Carolina, Tea and Honey Blends employs 10 people.
Bailey Lash and Dubroy embody the spirit of innovation and invention, which leads to entrepreneurship and wealth building, said Patricia Carter Sluby, a registered patent agent and author. She's also on MBIE's board.
"They're my favorite enterprising young ladies," said Sluby, curator for MBIE's maiden exhibit on March 16. Although the women weren't featured in the exhibit, Sluby invited them to discuss their entrepreneurial journey, along with other innovators.
"The reception and exhibit were both a great success," said John Whitman, 64, an MBIE co-founder and executive director recently. "Many people learned about the museum and shared their stories with us."
The history of black creativity and the spirit of entrepreneurship are the reasons for MBIE, Whitman said.
"The museum isn't just a showcase for modern and historical black inventors, it's also a catalyst to create a culture of innovation and entrepreneurship in the community," said Whitman. "Its purpose is to inspire people to spark the impulse of innovation and entrepreneurship."
Black Americans have contributed to the character of this country, he said, through music, dance, the church, language, sports, entertainment, science, and a nonviolent inclusive leadership that repudiates the oppressors who've blocked the efforts of African Americans for 200 years.
Incorporated as a nonprofit in 2011 by seven innovators, MBIE doesn't yet have a physical space, but is seeking one in the east of the river neighborhoods.
The museum celebrates the contributions by those who've persevered despite the odds. The focus on creativity is not the end, said Whitman. It's only an instrument that allows individuals to take ownership of their creations, which can build wealth beyond income.
"We want to create a demand-driven market for services, to work with the Department of Employment Services to help people work within co-operatives, where they own a piece of the business," said Whitman who added that MBIE is seeking to increase its partners and volunteers.
MBIE's goal is to build wealth through asset ownership and income. Therefore, last spring, the organization hosted Saturday seminars at THEARC, which focused on intellectual property and community resources for innovators.
"This is our first modest effort to highlight entrepreneurs from yesterday and today," said Sluby, a former U.S. primary patent examiner. The exhibit's 14 pieces of artwork were loaned by the U.S. Patent and Trademark Office, an agency of the U.S. Department of Commerce. "I focused on inventors who turned around industries and made an impact on the world economy."