Grassroots Lobbyists Descend on City Hall
5/22/2013, 10:15 p.m.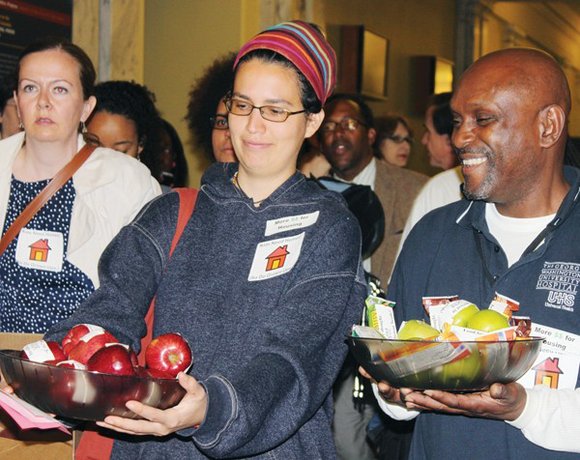 Feaster said she is undaunted.
"If I can get a job in my field, I can pinch pennies and make it," she said. "If I get a job at McDonalds, I wouldn't be able to pay rent ... this is the most difficult time I've ever had. I'm a viable candidate for transitional housing, I'm a hard worker and I have experience."
Armed with bowls of crunch bars, apples, bananas, letters, cards and toy houses, the group tried to meet with council members who were immersed in budget negotiations.
Council Chairman Phil Mendelson, 60, and his colleagues Jim Graham and Muriel Bowser addressed the group before they broke up into smaller groups to meet with other council members. Mendelson and Council member Jack Evans (D-Ward 2) agree with Gray that the majority of the money should be tucked away.
"The strength of our issues is your strength," Graham, 67, said while accepting a bowl of bananas and a stack of letters. "You're willingness to come here today is important. You have the muscle to tell us, 'Don't leave us out of the budget.' I think your presence is helpful and will make all the difference on this issue."
"People taking care of others should be exemplified. We're flush with cash. It should be spent on these programs."
Bowser (D-Ward 4), who is expected to run for mayor in 2014, told the lobby that they should keep councilmembers' feet to the fire.
"There is much more to do," said Bowser, 40. "Be vigilant, watch what's going on in the room. If we want to keep the diversity we have in this city, you have to stay focused."
Treibitz and other organizers handed out a flyer with statistics that illustrate the depth of program cuts and its effect on the most vulnerable.
It said that the District had $190 million more for FY 2013, but the city has slashed 27 percent of local funding for affordable housing since 2008; in addition, city officials cut the child care subsidy budget by $30 million in the last five years, while the number of residents with disabilities served by the Interim Disability Assistance Program has dropped by 80 percent since 2009.
"People have to work for 132 hours a week at the minimum wage to afford market rate rents," Treibitz explained. "Is it any wonder that people are losing their homes and having to leave the city? It's touching people all over, the middle class too."