Lt. Gov. Anthony Brown Enters Governor's Race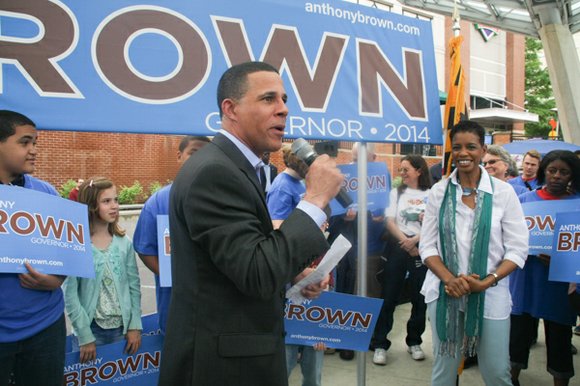 It's official.
Maryland Lt. Gov. Anthony G. Brown wants to be in command of the state's No. 1 political spot, and on May 10 he announced his candidacy to run for governor.
Brown made his first announcement on Friday afternoon at a community cookout at Prince George's Community College in Largo. However, over the weekend he rallied supporters in Baltimore, Frederick and Silver Spring at a series of events.
"We must always fight for a better way of life," Brown told the hundreds who gathered outside on the college's campus. "Maryland is a great state because of what we do together."
Brown, 51, received rousing applause as he took to the stage to the pulsing beat of "Can You Feel It" as supporters stood on tables waving and taking photos.
"Six years ago we started our journey when we pledged to make government work for all Marylanders. Two years ago we pledged to move Maryland forward," said Brown, adding that he's now asking those who back him to join in building on past success "to make Maryland better."
Brown's kickoff event in Prince George's County attracted hundreds, many waving blue, brown and white Brown campaign signs and wearing campaign stickers. Political figures from throughout the state were in attendance including Maryland Senate President Thomas V. (Mike) Miller, Congresswoman Donna F. Edwards, State Comptroller Peter Franchot and Prince George's County State's Attorney Angela Alsobrooks as well as several mayors, delegates and others.
Edwards gave Brown a hearty endorsement.
"We know with Anthony Brown we are going to make Maryland better for Marylanders," she said.
Brown was introduced by his wife Karmen who told the audience that her husband could have gone to Wall Street or into corporate work after graduating from Harvard College and Harvard Law School. Instead he chose the military and public service.
"What stands out is his commitment to helping people ... ensuring the promise of a better future," said Karmen Brown.
Anthony Brown also thanked his parents (his 89-year-old Jamaican father and 86-year-old Swiss mother), who he said worked hard to rear five children. Brown's three children shared the stage with their mother and grandparents.
"They taught me it's my responsibility to give back whenever I could," said Brown directly to his parents. "Thank you, mom and daddy."
Brown, who served two terms representing Prince George's County in the House of Delegates and now is in his second term as lieutenant governor, also touched on his leadership in reducing crime, growing jobs and making college more affordable.
Brown, a colonel in the U.S. Army Reserves, is the highest-ranking elected official to serve in Iraq, according to the biography on his website.
He has served as chairman of the governor's subcabinet on military Base Realignment and Closure process (BRAC), leading efforts to prepare for the arrival of 60,000 BRAC-related jobs. He's also been involved in efforts to improve benefits and services for veterans.
Brown spoke of how he ignored suggestions that he avoid serving in Iraq.
"This country has been good to my family," said Brown. "Our nation was calling. I had to respond."