Lt. Gov. Anthony Brown Enters Governor's Race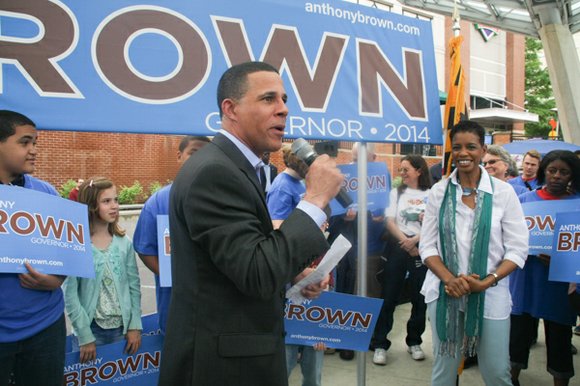 And he talked about lessons learned in the military.
"What I learned is regardless of where people live – Baltimore City or Prince George's County, whether Iraq or the U.S., they want the same things – jobs, medical care, safety in their homes and neighborhoods."
Gov. Martin O'Malley showed his support of Brown's gubernatorial bid by joining him on Saturday, May 11 at Waverly Elementary/Middle School in Baltimore.
"When I ran for governor, one of the most important decisions I had to make was choosing the right leader to serve with me as lieutenant governor," said O'Malley. "Maryland needed someone who would wake up every day energized to take on the challenges we face together and who would never give up in the fight to move Maryland forward. I chose someone that has dedicated his life to public service. I chose Anthony Brown."
O'Malley said the state has benefited from Brown's leadership in creating 4,000 jobs, expanding health care and curbing domestic violence.
Domestic violence was one of the topics Brown addressed from a personal point of view, reflecting on a family tragedy. In 2008, Brown's cousin Catherine Brown, 40, was shot and killed by her ex-boyfriend in Montgomery County. He and the governor set a goal of decreasing domestic violence rates by 25 percent.
Domestic violence can upend families' lives, he said.
As the event drew to a close with Brown and supporters hugging and shaking hands on stage to the sound of the Temptations' "Get Ready," Charles Griffin of Bowie commented that he liked what he heard.
"I think it was a great speech," said Griffin. "He hit a lot of tough issues that are at the forefront of everyone's mind."
Griffin, who described himself as a "big supporter" of Brown, said he especially appreciated the inclusive nature of Brown's speech and that class, race and ethnicity were not divisive elements in it.
"He genuinely cares about the community," he said pointing to Brown's military service and commitment to community service.
Carleen Townsend-Akpan of Upper Marlboro said she's been waiting for Brown to announce his candidacy and wanted to be there to support him.
"Basically, I feel both he and the governor have done a marvelous job in Maryland," said Townsend-Akpan. "I'm very proud of both of them."
She cited Maryland's top-ranking public education system, reasonable property tax rates, decreased crime and improvements to the state's health care delivery system as "very innovative and proactive," indicating that it is because of the O'Malley/Brown administration.
However others sitting at the tables eating hot dogs and hamburgers said they wanted to see specific issues addressed.
Barbara Lewis of Bowie said she is concerned about elections and voting.
"I want to know what they are going to do about the voting system," said Lewis, pointing out that she had to wait in line for five hours during the last presidential election. "He needs to correct that. The lines were as long as in voter suppression states. Why is that?"
Gloria Collins of Upper Marlboro said she hasn't decided who she is supporting for governor.
"I want to hear what the candidate has to say," said Collins. "I want to be informed."