Michelle Obama Takes Center Stage
Bowie State Commencement Draws Thousands
5/22/2013, 10:06 p.m.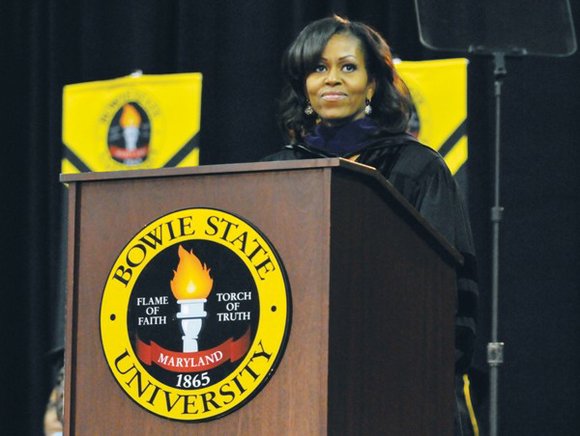 The date, Friday, May 17, will forever be etched in the mind of Calvin Johnson as a special one.
His son, Calvin Johnson Jr., marched across the stage at the Comcast Center in College Park, Md., during Bowie State University's graduation ceremony and received his bachelor's degree in business administration.
The proud father armed with his 35 millimeter camera, zoomed in on his son to capture this once in a lifetime moment.
"He worked so hard for this," said Johnson, 50, a Bowie, Md., resident. "It wasn't easy. He had lots of obstacles. He had a baby last year. [But] he also has a job waiting for him, as a fireman."
The family planned to host an outdoor party for his 24-year-old graduate on May 18 at Watkins Park in Upper Marlboro, Md.
"He worked and he went to school," Johnson added. "It's amazing when Ms. (Michelle) Obama talked about hard work and lasting success."
Many like Johnson at Bowie State's 2013 commencement reflected upon the first lady's words to the more than 600 graduates, and thousands of supporters at the Comcast Center on the grounds of the University of Maryland in College Park.
Jason Williams, who graduated with a master's degree in information systems, said Obama's story about her parents' struggle to put her and her brother through college, could be his own.
"Michelle Obama said her family didn't have a lot of money," said Williams, 26, a Bowie resident who's one of four sons. "Neither did mine. Now, all four of their sons have earned master's degrees."
The first lady addressed a predominantly African-American crowd, which greeted her warmly with several rounds of applause. She used her 21-minute address to reflect upon Bowie's founding in 1865 as a school for black teachers; the trials of African Americans who fought for an education; to encourage graduates to play roles as educators, regardless of their career choices; and to reminisce on her parents' sacrifice.
"Education means emancipation," she said, quoting abolitionist Frederick Douglass. "He said, 'It means light and liberty.' So to the folks who showed up to your school on that January day back in 1865, education meant nothing less than freedom. It meant economic independence, a chance to provide for their families. It meant political empowerment, the chance to read the newspaper and articulate an informed opinion."
Obama, a graduate of Harvard Law School, was awarded an honorary doctorate of laws from Bowie State, and received a standing ovation after she finished her speech. University officials said that the recent commencement happened to be the first time that Michelle Obama addressed a Bowie State University audience. President Barack Obama visited the campus twice, once as a senator in 2006 and again as president in 2010.
The university also awarded an honorary doctorate of humane letters to Valerie Simpson and posthumously to Nickolas Ashford, the husband-wife songwriting duo, known as Ashford & Simpson. A presidential medal of excellence was bestowed upon Freeman Hrabowski III, the president of the University of Maryland, Baltimore County, and the chair of President Obama's Advisory Commission on Educational Excellence for African Americans.