The One: Central Park Five's Korey Wise
Mea Ashley | 5/22/2013, 10:56 a.m.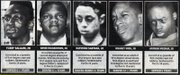 Korey Wise sits smirking through a one-man play, saying "hmph!" and "ummm" now and then. Youth groups, activists, and college students have packed the auditorium at the National Black Theatre in Harlem. Wise will join a panel after the play on wrongful imprisonment, a subject he knows too well.
In 1989, Wise and four other young black and Latino teenagers were convicted of raping and beating a white investment banker in Central Park, leaving her for dead. The media called her the Central Park Jogger and the accused the Central Park Five. No evidence linked them to the crime except for their confessions, which came after relentless hours of police interrogation. They recanted shortly afterwards, but those statements were still enough to send them all to jail. Wise was 16 and was sentenced to 5 to 15 years as an adult.
Last year, a decade after an inmate named Reyes Matias confessed to the crime, resulting in all five of the boys' exoneration, Sarah Burns, Ken Burns, and David McMahon released a documentary about their story, "The Central Park Five". Wise, who went free after 13 years, is now suing the city for wrongful imprisonment.
During the panel, a young man in the audience tells about being imprisoned at Rikers Island at 16. Wise can relate. He sits straightforward, hands clasped, no emotion on his face, almost dazed.
"Wow," is Wise's unspoken reaction.
Later, in his Bronx apartment, he compared Rikers Island to another local landmark.
"The Bronx Zoo is dealing with all types of elements," he says.
Yet he sees Rikers Island as where rebirth happens, because inmates' natural instinct and appetite for survival kick in. "There's no mommy, no daddy," he says. "Just you."
Wise's instincts did kick in one day on Riker's Island after an altercation with a fellow inmate, Reyes Matias. "Destiny made it his business to come see me," Wise tells the audience, explaining how the true rapist of the Central Park Jogger confronted him over control of a television.
Thirteen years later, almost five hours away at Auburn Correctional Facility, Wise and Matias met again on the yard where about 10,000 inmates congregated. Matias approached Wise and established that he too had transferred from Rikers Island. When inmates travel from prison to prison, it's hard to meet new people, so they tend to stick with familiar faces. Matias broke the ice by apologizing for the fight; Wise accepted.
"I see you're still maintaining your innocence," Matias said.
"I guess so, yeah," Wise said.
"Are you religious?"
"Nah, I'm not religious. Why, what's up?"
"Well, you know, I just became religious."
"Well, all praises be to the most high for you then."
The next day in the chapel, Wise got a call from his mom. Inmates summoned to the chapel usually expect to hear about a death in the family, but not Wise.
"I don't know who you talked to, but whoever you talked to, he freed you," his mother said.
The white walls and concrete floors in Wise's Bronx apartment living room are as bare as a prison cell's. The wind from the open window competes with an accordion heater right beneath the sill. Wise often repeats phrases three to four times before completing a poignant thought. He stands up from the wood framed chair.