Private Prisons Equal Big Business
High Incarceration Rates Boosts Income for Operators and Government Officials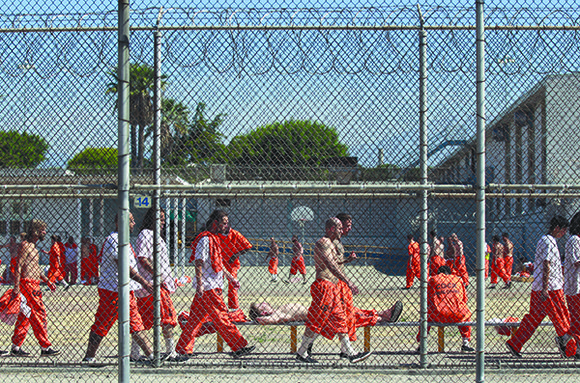 While newly appointed Federal Communications Commission Acting Chair Mignon Clyburn and members of the Congressional Black Caucus continue their fight to reduce the costs for inmates to make telephone calls, a battle against privately run prisons is heating up.
Officials at various civil rights and watchdog organizations claim that private prison operators are using their political clout to help increase the prison population and to deny the release of many who are eligible for parole.
"For profit companies exercise their political influence to protect their market share," said Tracy Velazquez, the former executive director of the Justice Policy Institute in Northwest Washington, D.C.
"We need to take a hard look at what the cost of this influence is, both to taxpayers and to the community as a whole, in terms of the polices being lobbied for and the outcomes for people put in private prisons," she said.
Meanwhile, Clyburn and Rep. Marcia Fudge, D-Ohio, of the Congressional Black Caucus (CBC), have continued their push to reduce exorbitant telephone call rates that inmates face when calling home.
In most prisons a $3.95 connection fee is required for all calls and inmates pay an additional 89 cents per minute.
However, in private prisons, the calls can be as much as $5 per minute, a fee required of the 2,000 prisoners at the Stewart Prison in Lumpkin, Ga.
That high fee helps Correction Corp. of America (CCA), the prison's private operator, rake in between $30 million and $50 million a year, according to the Northwest Washington, D.C.-based government watchdog, Think Progress.
Private prison operators have cumulatively reported profits of almost $200 million annually, according to a 2013 March edition of Bloomberg Businessweek.
The operators, like CCA, average between 42 and 66 percent commissions, which result in millions of dollars in revenue for the corporations, the Federal Communications Commission (FCC) reported in a 2012 filing.
"This is [the telephone rates] something that I've been advocating for years," said Clyburn, 51. "It's important that families have that contact with their incarcerated loved ones."
Fudge, who heads the CBC, said it's imperative that the costs are reduced.
"If (inmates) can communicate with their families, the odds are much better that they will not be repeat offenders," said Fudge, 60, who asked the FCC to eliminate the per-call charges and establish a reasonable and permanent cap on telephone rates in all prisons.
The financial windfall that privately managed prison operators reap from telephone calls is only a small fraction of their overall income, which reaches into the billions.
The country has three types of lock-up facilities; local or county jail, state and federal prison. However, instead of operating specific prisons, many local, state and federal authorities have opted to contract with various private corporations to manage the facilities.
Since 2003, the number of private prisons has grown from five to 100 nationwide while prisoners in those facilities have increased from 2,000 to about 130,000.
The two largest private prison operators – CCA and The Geo Group (GEO) – report revenues approaching $3 billion annually, according to financial documents posted on the New York Stock Exchange, where they are publicly traded.