Redskins' Training Camp Moves to Richmond
Web Staff | 5/22/2013, 8:02 p.m.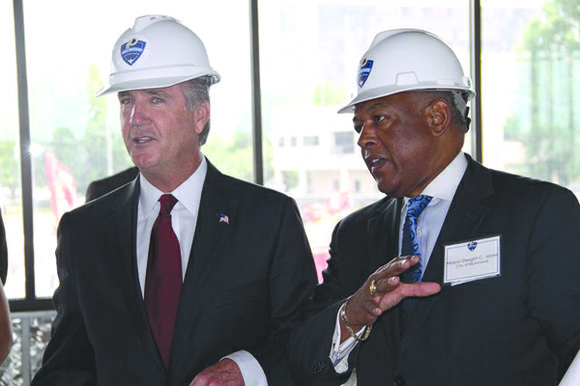 Lush green grass covers the vast playing field, the locker room needs just a little sprucing up, and the training area is almost ready at the new Bon Secours Washington Redskins Training Center in Richmond, Va.
And, when the $10 million facility opens in July, it'll be touted as a world-class epicenter where a variety ofservices, programs and activities – including health clinics and children's workshops – will be held whenever D.C.'s legendary football team isn't in training.
"This will be a big boost for the city of Richmond," said Mayor Dwight Jones. "It will make a major economic impact on the city," he said of the project which occupies 17 acres behind the Science Museum of Virginia, and boasts more than half of the projected number of minority contractors designated for involvement in its construction.
"We had a 40 percent goal of minority participation and we've reached 33 percent," said Jones, 65. "We're looking at an $8 million impact from the training camp, [and] Bon Secours is going to be here throughout the year, [making this a] major economic impact for the city year-round."
While there had been concerns about the facility's construction going over budget by as much as $1 million, Jones assured the large turnout of reporters and other officials who were invited to tour the site on Monday, May 20, that all is well.
"I'm pleasantly relieved that everything's on time," Jones said, as work crews diligently added finishing touches inside and outside the center. "I think the construction company has done a tremendous job to get us here . . . The building's on schedule and it's what the city expects."
Training camp is an annual ritual in the NFL that provides fans across the country a chance to see their favorite Redskins players in action.
From 2003 until 2012, the camp which is open to the public free of charge, was located in Ashburn, a city in Northern Va. They also practiced in Ashburn for one season in 2000, after a four-year stint in Frostburg, Md. However, the last time the team trained in the District was in 1945 at Georgetown University in Northwest.
The Redskins' first training period in Richmond takes place July 25 through Aug. 16, with about 100,000 fans expected to come out and watch from a three-tiered amphitheater, take photos of the players and coaches – and even bring along coolers full of beverages and snacks to enjoy.
Jones said he foresees no problem with District-area fans following their team to Richmond.
"I think the Washington [fans] are still going to come," said Jones. "But I also think that by the team being in Richmond, it's a more central location to a larger geographic area . . . and people from North Carolina or Baltimore are going to be really anxious to come and see RG III."
Die-hard Redskins fans Hasan Nasim of Upper Marlboro, Md., and District resident Gayle Hinton, agreed, saying it won't matter that they'll have to travel a couple hours to the practice sessions.