Trio Vying to Build Prince George's County Casino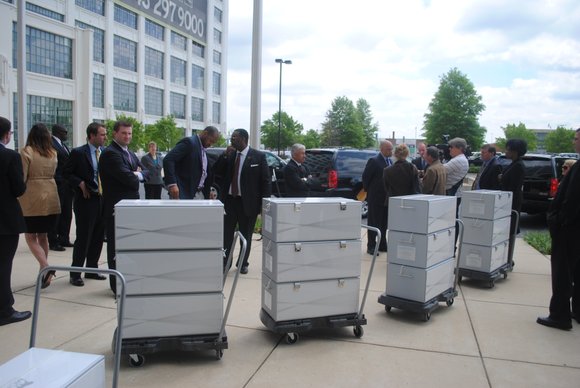 Three gaming operators are counting on more than just a roll of the dice to determine who will win the high-stakes battle to build Maryland's next casino.
Penn National Gaming (PNG), MGM National Harbor (MGM) and Greenwood Racing have filed proposals with the Maryland Video Lottery Facility Location Commission to build and run a casino in Prince George's County. By the end of the year, the commission is expected to grant one the license.
While details of what each wants to develop are limited, it's clear that the prospective operators have different approaches and levels of experience.
MGM National Harbor dramatically publicized the delivery of its proposal to the commission. On May 9, the day before the deadline for submission of proposals, MGM National Harbor held two press conferences – one on the site where they propose building the casino in the morning and one in the parking lot of the commission in Charm City later that afternoon. After speeches and photo opportunities, 13 copies of their proposal – contained in white and gray cases that resembled small, ultra-modern foot lockers – were loaded into four black sports utility vehicles and driven from National Harbor to the commission's offices in Baltimore.
Penn National Gaming had none of that fanfare. Instead, they delivered their proposal without the glare of the media spotlight – no press conference, no hoopla – distributing statements to the media via email after their plans were in gaming officials' possession.
PNG seeks to build a $700 million casino resort project at its Rosecroft Raceway property in Fort Washington.
PNG's proposal includes a casino gaming and racing entertainment facility featuring video lottery terminals, live table games, a poker room, a hotel with a pool and spa, food and beverage options, an entertainment and multi-purpose event center, a new grandstand and parking facility.
"We believe our proposed Hollywood Casino Resort at Rosecroft Raceway represents the best way forward for Prince George's County and the state of Maryland as it ensures the track's long-term viability, provides further stability to the local horsemen and the state's horseracing industry, brings significant new investment and employment to the area and will be a long-term driver of elevated economic activity," said Tim Wilmott, president and chief operating officer of PNG.
The Rosecroft casino is expected to generate approximately 4,600 construction jobs, and 2,600 permanent jobs, PNG officials said.
"Penn National intends to schedule and execute the development of Hollywood Casino Resort at Rosecroft Raceway to allow for the uninterrupted operations of the track and its year-round horseracing meet," they noted.
Located 13 miles south of the District on approximately 125 acres, the raceway originally opened in 1947 and closed in 2010. Penn National, which owns and operates 20 horse racing venues and casinos, re-opened the facility in 2011 for live harness racing and race simulcasting. Penn National also opened Hollywood Casino in Perryville in 2010.
"We are looking forward to a fair and objective selection process and working with the local community and the state regulators to make this vision of a Rosecroft Raceway of the future a reality," said Wilmott.