THE RELIGION CORNER: Who Rules Your Spirit?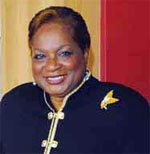 What? Know you not that your body is the temple of the Holy Spirit who is in you, whom you have of God, and you are not your own? 1 Corinthians 6:19
It has been nearly a year since God enabled me to keep my radio talk show going, which airs each Friday at 6 p.m., on Radio One's, WYCB AM, 1340 on your radio dial. The show shares good news about health, inspirational stories and politics. Our on-going show scripture is taken from Philippians 8:4, which says, " Finally, brethren, whatsoever things are true, whatsoever things are honest, whatsoever things are just, whatsoever things are pure, whatsoever things are lovely, whatsoever things are of good report; if there be any virtue, and if there be any praise, think on these things."
On my radio show, I have interviewed lawyers like one of my sponsors, attorney Jack H. Olender, business owners, doctors, including the very doctor who cared for my mother from Greenville, N.C.; musicians, educators, high-achieving students, and national figures like the Rev. Jesse Jackson and actress Della Reese. This past year has truly been a blessed year!
To celebrate this first year, the Lord put in my spirit many months ago, in consultation with my pastor to host an exciting community health fair, which will be held in memory of my mother Evangelist Fannie Estelle Hill Grant, and others who suffer from diabetes like she did. I've written about mother in this column many times. Remember the highly requested, five-part series on "Stop Fanning the Flames of the Diabetes Epidemic" well, that was the story about my mother and the devastation caused by her late diagnosis of diabetes.
Please mark your calendar now, as a reminder to join us on Saturday, June 15, 2013, from 10:00 a.m. -3:00 p.m., as we celebrate how the Lord has blessed me to keep the show on the air for a full year! The Community Health Fair will be held at my church, All Nations Baptist Church, located at 2001 North Capitol Street, NE, Washington, D.C. 20002, Rev. Dr. James Coleman is pastor. You're all warmly invited, to this important Health Fair designed to accommodate all ages.
Pastor Coleman and other ministers will facilitate a series of panel discussions made up of guest presenters dealing with a variety of contemporary health issues. Participate in our workshops and learn more about proper diet and exercise; about President Obama's Plan B legislation; discussion on medical marijuana; and greetings from elected officials.
Some exciting health organizations are coming. Take a look at the list: American Diabetes Association; NIH National Digestive Disease & Kidney Center has agreed to provide literature plus a radio interview; the District's Department of Health will conduct HIV/AIDS testing; MedStar confirmed two departments, both the hearing and trauma centers are coming; Howard University Hospital is checking on what it will do; and D.C. Fire and EMS will be there to provide free blood pressure and diabetes testing.
To keep our health in tip-top shape requires much discipline. We must learn to believe in the way of life we've chosen to live, and put it into practice by exercising, eating healthy, eliminating junk foods and eating sweets in moderation; taking in green leafy vegetables, and drinking super food vitamins and minerals.
We must help others to believe in God's word, and to learn to maintain good health which requires good stewardship responsibility. My pastor is teaching a stewardship series at Wednesday night bible study. Join us weekly and hear how the Lord holds each of us accountable.
Proverbs 25:28 KJV says – He that hath no rule over his own spirit is like a city that is broken down, and without walls.
Lyndia Grant is a radio talk show host on WYCB 1340 AM, Fridays at 6 p.m., a Radio-One Station; Religious Columnist; Media Coordinator and Special Events Coordinator. Visit her website at www.lyndiagrant.com; call 202-518-3192; send emails to fanniestelle@yahoo.com