D.C.'s Newseum to Open New Civil Rights Exhibit
WI Web Staff | 5/23/2013, 9:24 a.m.
Washington's Newseum will debut a civil rights exhibit in August that showcases student leaders who fought segregation in the 1960s.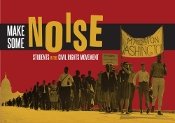 The exhibit — "Make Some Noise: Students and the Civil Rights Movement" — will feature a section of the original F.W. Woolworth lunch counter from Greensboro, N.C., where four African-American college students in 1960 launched the sit-in movement when they refused to leave the counter after being denied service in the whites-only section.
The display will also feature a bronze casting of the Birmingham, Ala., jail cell door behind which civil rights leader the Rev. Martin Luther King Jr. penned his famous "Letter From Birmingham Jail" in 1963.
The exhibit, which opens Aug. 2, will focus on key figures in the student civil rights movement, including U.S. Rep. John Lewis of Georgia and former NAACP chairman Julian Bond. The opening coincides with the 50th anniversary of the March on Washington.
Additionally, the museum will launch "Civil Rights at 50," a three-year exhibit which will be updated annually to chronicle milestones in the 1960s civil rights movement.