Bowie State University Honors Ashford & Simpson
5/24/2013, 12:48 p.m.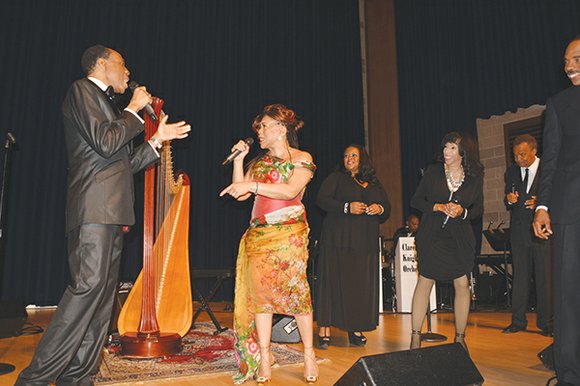 When she arrived at Bowie State University for the second time on the evening of May 17, singer and songwriter Valerie Simpson said she wasn't sure what to expect.
That night, Simpson was a special guest of the university at a musical tribute to her and her late husband Nickolas Ashford to benefit the Ashford & Simpson Endowed Music Scholarship Fund at the university. Earlier that day, at the Spring Commencement ceremony, President Mickey L. Burnim conferred honorary degrees – the 2013 Doctor of Humane Letters – on the husband and wife songwriting duo who for decades produced a range of rich, powerful and memorable music that became the soundtrack of so many people's lives.
"I know nothing about what's happening. I'm just going with the flow," Simpson told a room of VIPs at a pre-event reception moments after arriving at the Fine and Performing Arts Center in Bowie, Md. "I appreciate everyone who has made this a success. I'm excited about the scholarship and the recipients."

Simpson, 66, said the scholarship fund is important because it gives young, aspiring musicians and those in the fine arts a leg up.
"I see the need to give young people an opportunity," she said. "That chance has to be there for someone. Events like this offer the ways and means. I didn't have it. I lucked up. You can't be careless. I'm thrilled for this for some young person."
"I know that Bowie State is an African-American institution. It thrilled me because many of the students are attending university for the first time. The scholarship increases opportunities. What I did was hard to do. I want to matter and this makes it a little easier – we offer them a cushion."
Burnim praised the musical icons, who over the course of 50 years wrote hits for Marvin Gaye and Tammi Terrell, Gladys Knight and the Pips, Smokey Robinson, The Fifth Dimension, The Supremes and Diana Ross.
"It's a delight to have you here at what is the concluding portion of what has been an amazing day," he said prior to the start of the tribute concert. "We honor the life, accomplishment, musical performance, writing and lives of Ashford & Simpson. They're acclaimed and accomplished writing for Motown, Ray Charles, producing romantic duets of the most dramatic kind … They are, indeed, an inspiration to us all…"
Mistress of Ceremonies Sheila Stewart, of Radio One, captured the depth of feeling people have for the songwriting team who also made a mark as singers and producers.
"This is a tribute to Ashford & Simpson, celebrating two individuals who transformed the musical landscape. They've demonstrated the power and impact of well-written music."
The performers at the tribute concert included jazz and gospel harpist/producer Jeff Majors; legendary pop and jazz singer-songwriter Jean Carne; Al Johnson of the Unifics; surprise guest Freddie Jackson; and Baltimore-based jazz singer/songwriter Maysa Leak, backed up by the Clarence Knight Orchestra. All paid a special musical tribute to Simpson and her husband who died in 2011 from throat cancer.