Bowie State University Honors Ashford & Simpson
5/24/2013, 12:48 p.m.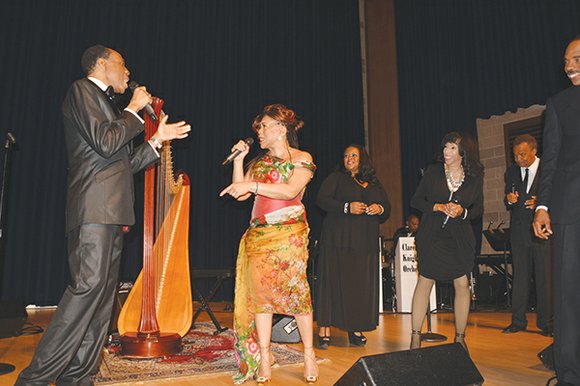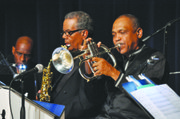 The music was soulful and soared, singers caressed the notes, scatting at times a la Ella Fitzgerald, and moved up and down the musical scale with ease. Simpson appeared genuinely surprised when Jackson walked on stage. She held a hand over her mouth as he strutted out, bowed from the waist and began crooning.

The performers' renditions of several of Ashford & Simpson's signature tunes excited the audience and Simpson alike.
Simpson was seated in a place of honor, swaying to the vocals, mouthing the words of some songs, moving in her chair and nodding her appreciation to her colleagues.
"Isn't it good for us to come together on a happy note?" Carne asked. "You are more than deserving, my sister, because after all, you taught us to be solid as a rock. Ain't no mountain high enough and as Maysa reminded us, it's still good."
"I honor you, I pay tribute to you," said Carne, a longtime friend. "We're here to rally to lift you up, pay homage if we may. You are our shero, the wind beneath our wings."
Earlier in the evening, as Simpson talked about her husband, the loss was palpable.
"It's been one year and eight months. Now, I'm like a newborn baby finding its way," she said. "Nothing is the same. I have to keep singing. I'm so used to waiting for someone to come in. It's a learning experience. I didn't get goose bumps before [coming on stage], now I do. If God has a purpose for you, you have to meet it head on."
The performers ended the evening with a rousing rendition of "Reach Out and Touch Someone," and taking her cues from the other performers, Simpson walked onstage and belted out the song in her own inimitable fashion.
Before the concert's conclusion, Simpson made some impromptu remarks after Stewart asked the crowd to rise and give Simpson a standing ovation and then invited her to speak.
"I feel like I've said so much already," she said softly. "You've overwhelmed me. My heart is bursting. Some days are better than other days and this is one of the greatest days."
As she thanked Burnim, Simpson recalled the genesis of "Ain't No Mountain High Enough."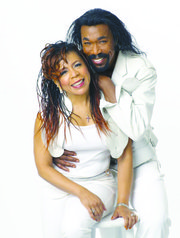 "When Nick Ashford hit New York City so many years ago, he struggled and wondered if he was going to make it," Simpson said. "As he walked on New York's West Side, he looked up at the tall buildings and said 'ain't no mountain high enough' to stop him from being successful. We wrote it as a love song but it was about overcoming all odds."
"I don't know where you'll end up or who you'll affect but give it your best. Give it you're all. Surely, if I'm left here, there must be something I can do."
Detra Rouse walked out of the Recital Hall wearing a beatific smile.
"I thought the event was amazing," said the 43-year-old native Washingtonian. "People were overwhelmed with the commencement. There's a great feeling in the air. I'd never seen her [Simpson] perform, but my sisters were huge fans and of course, I'm a huge fan of Maysa's."
Carne, who has known Simpson for decades, said she appreciated being a part of the tribute.
"It was a rare opportunity that friends got together to celebrate with another dear, dear friend," she said. "We share her grief and wanted to lift her up."
Majors said he was glad to be able to lift up his friend of more than 20 years.
"I'm just honored she's able to get her flowers now and to get her due and that we were able to honor her the Bowie State University way," the native Washingtonian said.