Health Benefit Exchange Takes Root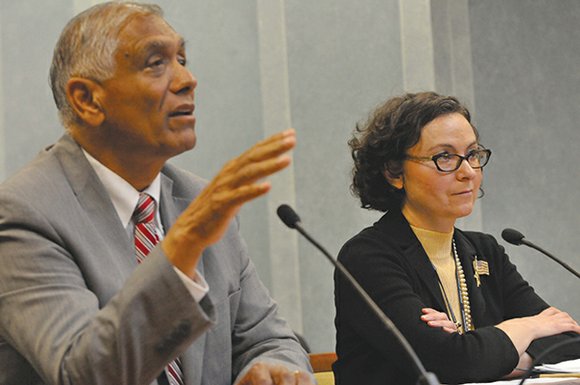 "We will not be limiting the products health care companies can sell," she said. "One company said they'll offer 150 products."
Consumers can input their needs and if they turn off the filters, they'll be able to see all the policies or products that fit their needs.
"This is a plan comparison tool that will help consumers compare apples and apples," Kofman said.
HBX officials are vetting potential vendors through a Request for Proposal and once a suitable vendor is chosen, it will create a call center. Kofman said the vendor will hire staff and District residents will be given preference.
"Although we cannot demand that D.C. residents be employed, we want to hire folks who've lived here, worked here, know the diverse community and can offer assistance," said Kofman. "The company will hire staff and will be held to significant standards, for example, time, language, and how issues are resolved. They'll be a number of standards the vendor has to meet."
The vendor will hire, recruit, train and manage a staff of between 30 and 50 people and the call center will initially be staffed 24 hours a day.
"We have to reach everyone. We'll be targeting people without health care coverage or who are under-insured," she said. "We want every District resident to have access."
Kofman said the HBX Board's policy work groups have been instrumental in helping reach the goal of creating "one big marketplace."
"We want all individual and small group insurance to be sold over our portal," Kofman explained. "The portal will have all insurance companies, all products and all prices – like Kayak and Expedia. I firmly believe that the only way to ensure that insurance companies compete for your business is to have it all in one place and to have reasonable premiums. Our proposal is for everything to be available through the exchange portal."
"We want to empower insurers, which doesn't exist right now. We will have extended hours for consumers. High-quality coverage information will be on the website. We want everything in one place for their benefit. We don't want to create a situation of haves and have-nots. We plan to have very robust, comprehensive quality information."
Kofman said that one area of concern for herself and her staff is to reach District residents who lack broadband or access to a computer.
"This is a big concern," she said. "We're going to have an aggressive and comprehensive outreach plan which includes vigorous in-person assistors, the faith-based community and community health centers to help people enroll."
"This will include people coming to your home. We'll have physical locators all over the city."
Sorian said people living at or under 400 percent of the federal poverty level will be eligible for tax credits, as will small businesses with employees numbering below 50. If people qualify, the federal government will pay a $200 premium to the insurance company of their choice.
Small businesses will also be eligible for tax credits, he said.
"We will also have tax credits for businesses with up to 25 employees. Moderate small businesses may also qualify. The largest tax credits will be available to companies with 10 or less."
Sorian and Kofman said the District's Department of Insurance, Securities and Banking will review insurance policies and ensure that companies comply with professional standards and it will also be closely scrutinizing premiums.
Creation and implementation of the exchange has not come without pushback. Council members such as Yvette Alexander (D-Ward 7) and David Grosso (I-At-Large) have at different times, opposed different elements of the exchange. There have been concerns about forcing small businesses to use the exchange but recently, a group of small business owners expressed their support. In an April 8 letter, they said:
"As organizations that serve, advocate for, or employ residents of the District of Columbia, we write to express our support for a DC Health Benefit Exchange that improves the affordability, accessibility, and quality of health coverage for residents, small business owners, and small business employees."
"This includes adopting strong quality and consumer protection standards for health plans sold in the DC Exchange, improving transparency and oversight of all insurance coverage in DC, and combining the individual and small group markets into a unified market within the DC Exchange."