Study: African-Americans Confident about Financial Future
WI Web Staff | 5/24/2013, 9 p.m.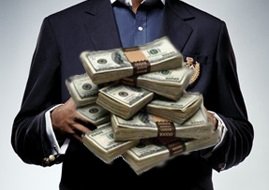 African-Americans' financial affluence — and their confidence in the economy — is growing, according to a study by a prominent insurance company.
Prudential Financial Inc. released the results of its second "African American Financial Experience" study, which found the black community increasingly optimistic and prosperous despite dealing with a number of factors likelier to affect it more than others.
"The study shows increasing economic power and an emerging middle class within the community," said Charles Lowrey, the company's CEO of U.S.-based businesses. "Approximately 4 in 10 households surveyed have annual incomes of at least $75,000, and nearly a quarter earn $100,000 or more. Half of African-Americans surveyed said they feel better off financially than a year ago, while only 19 percent say they feel worse."
The study, which was first conducted in 2011, is based on a March financial survey of 1,153 blacks or African-Americans, as well as 471 others from the U.S. general population.
The results of the survey were weighted according to the U.S. Census to reflect the proper proportions of African-Americans and the general population within each income groups.
The African-American community expressed much more confidence about their finances than others, despite juggling a greater number of more immediate priorities, according to the survey. Two-thirds consider themselves on sounder footing financially than their parents.
The optimism comes even amid an uncertain economy and high unemployment rates. Blacks support unemployed friends and family at nearly twice the rate of the general population, as well as carry twice as much debt from student loans, the study found.
Additionally, those blacks polled report an overall sense of detachment from the financial services industry, as blacks are 13 percent less likely than the general population to have been contacted by a financial adviser. Though half of African-Americans surveyed say they believe working with a financial adviser would help them make better financial decisions, only 19 percent actually have one.
Nevertheless, African-Americans are significantly more optimistic about their financial future than the general population — a confidence largely driven by a broad and balanced array of factors including life insurance protection, level of debt and expenses, and health care costs.
"Family remains a key factor in the African-American financial experience," said Sharon Taylor, the company's senior vice president and head of human resources. "African-Americans also report managing more financial priorities than the general population, despite doing so with lower incomes. African-Americans have a greater number of family-oriented financial priorities, like adequately protecting loved ones, leaving an inheritance and funding education."
The study is part of a series of research by Prudential examining financial trends among different groups throughout the nation, including women and the LGBT community.