Annual Conference in P.G. County Shines Spotlight on Women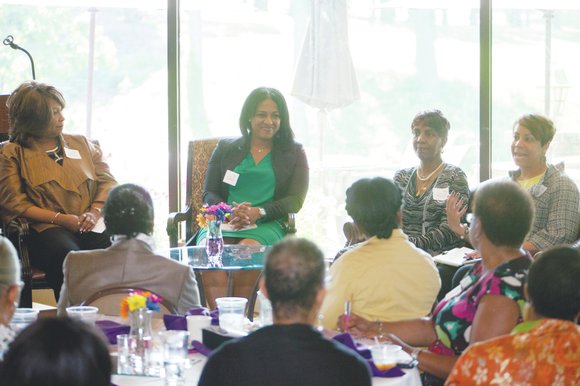 Focusing on oneself might sound like a selfish approach but not to the 50 or so women who attended the 8th annual "It's All About Me!" Conference.
The women's business and wellness conference, which was held May 21 at The Country Club at Woodmore in Mitchellville, delivered the message that in order to succeed in business, women need to make both their personal and professional lives a priority.
"Yesterday's conference was a resounding success," said Dawn P. Jackson, executive director of the Women's Business Owners of Prince George's County (WBO), and president of Nudawn Marketing Group, Inc. "Every attendee was able to garner some benefit from their attendance, whether it was learning new tools and techniques to grow their business; getting a pearl of wisdom to improve their health; or building on a blossoming relationship."
The daylong conference included workshops and panel discussions that touched on a diverse array of subjects such as "Overcoming the Superwoman Syndrome: Taking Care of Self While Taking Care of Business," "B2B Proposal Tips and Tricks," "How Busy Women Stay Healthy," "The Necessary Tools for Effective Pricing," and "Is Your Business Dressed for Success?"
The event was sponsored by WBO and the Nudawn Marketing Group with backing by several corporate sponsors.
"The women business owners who attended were energized, educated and inspired," said Doris McMillon, president of WBO and mistress of ceremonies at the conference.
Speaker, author and ordained elder Vikki Kennedy Johnson, the luncheon keynote speaker, gave the audience tips for "living the life you dream from the inside out."
She told the women to practice self-love, extreme self-care and self-acceptance.
"You cannot give away what you don't have," said Johnson, adding it's vital to also set boundaries for others and to learn to say no to some of the things others ask.
Johnson also told the audience to "live life intentionally" and with purpose.
"We should be living each day like it's our last because one day it will be," she said.
During a panel discussion on the importance of building and leveraging relationships, Marcia Fields Milton, president and chief executive officer of Priority Trailways, Inc., shared how a casual conversation with a passenger on a plane resulted in a $500,000 a year business relationship providing transportation services to National Collegiate Athletic Association athletes.
"Sometimes a little talk with people, you never know where it will lead," Milton said.
One of the other panelists Necole Parker, principal and chief executive officer of The Elocen Group, emphasized the four "ups" – read up, show up, listen up and follow up.
"Eighty-five percent of people don't follow up," she said.
Panel moderator Gloria Parker, president and chief executive officer of Parker Group Consulting, told the women that to build strong relationships they should never ask a business associate to do anything unethical, never burn bridges and always treat people the way they themselves want to be treated. She also stressed the value of sending handwritten notes.
Several guests praised the event and said it was time and money well spent.
Ardania Williams of Upper Marlboro said she's been attending the conferences for six years and each year it reinforces that she deserves to occasionally disconnect from the demands of work and concentrate on herself.
"It energizes me," said Williams.
The vice president of marketing and development for a construction company, Williams said the first thing she did when she arrived at the conference was to get a massage from one of the vendors.
Accountant Constance Nwosu of Bowie also left satisfied with the speakers and activities.
"It was excellent," said Nwosu, who admitted she attended for the opportunity to network. "I met a lot of interesting women. It was worth the money."
Kim Watters of Silver Spring who runs a College Park business was one of the presenters and said she appreciated the event's "positive atmosphere" and how engaged the women were.
"It was absolutely amazing," said Watters.