D.C. Political Roundup: Evans Talks about Mayoral Campaign, Other Issues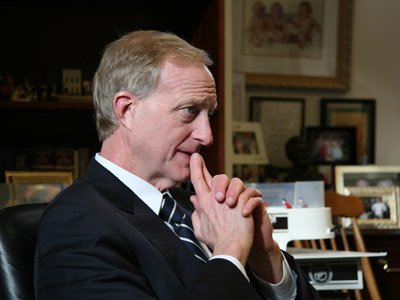 D.C. Council member Jack Evans (D-Ward 2) hinted that he will formally announce his run for mayor of the District of Columbia in the near future.
Evans served as the keynote speaker at the meeting of the Ward 3 Democratic Committee on May 23 at The Methodist Home of the District of Columbia in Northwest. When asked about the start of his campaign for mayor, he provided a brief response.
"I will make an announcement at the beginning of the summer," he said.
When Evans, 59, enters the race, he will run against fellow council members, Muriel Bowser (D-Ward 4) and Tommy Wells (D-Ward 6) for the April 1, 2014 Democratic Party nomination. There's chatter in political circles that D.C. Council member David Catania (I-At Large) and former District Administrator Robert Bobb, who has returned to the District from Detroit, will also, throw their hats into the ring. At this point in time, Mayor Vincent Gray has yet to announce his plans for 2014.
Evans has been a staple on the D.C. Council for 22 years, and has served continuously for the longest period in his position. He replaced the late John Wilson in a special election on April 30, 1991 as the Ward 2 representative and has distinguished himself on the D.C. Council as a fiscal moderate with a heart for the city's disadvantaged.
He's the longtime chairman of the Committee on Finance and Revenue and ran unsuccessfully for mayor in the 1998 Democratic primary, where he lost to Anthony Williams. While Evans didn't talk about his upcoming bid at the meeting, he did, however, expound upon the excellent financial health of the District and he articulated what he believes are priorities that District leaders should work to accomplish.
"In the 1990s, we had a 'B-minus' rating on Wall Street and now we have a 'Triple A' rating with regards to our income tax bonds and 'Double A' rating on our general obligation bonds," he said. "We have $1.5 billion in savings but we still struggle with urban problems."
Evans said that education, public safety, affordable housing and jobs are "four areas that we as a city need to work on."
He said that he will continue to accept political donations from corporate donors and doesn't intend to recuse himself from voting on legislation that might benefit a developer who has donated to his campaigns in the past, or a developer who may donate in the future.
"I don't think it is workable to stop council members from voting on issues because of a donation," he said. "I do not agree with the premise that developers use campaign contributions to control the votes of D.C. Council members."
There will always be politicians who accept donations illegally, he said.
"You will always have that type of problem."
Evans said that he doesn't favor public financing of campaigns.
"I do not support that but I would not oppose it if members of the council voted for it," he said. "I am very successful in raising money in the system that we have and we in the District have one of the strictest systems in the country."