Handsomely Styled Mazda6 Hits High Marks in Family Sedan Segment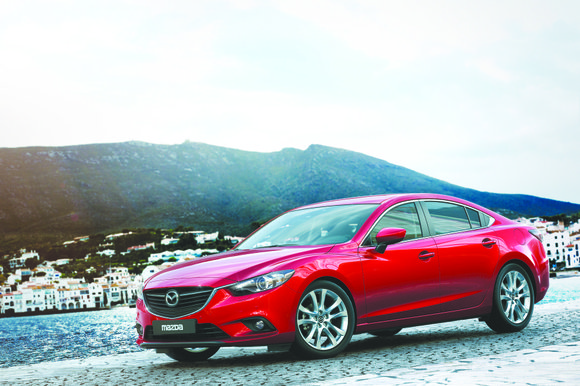 A few years ago, Toyota Motor Corp.'s Camry and Honda Motor Co.'s Accord were the top sellers in the mid-sized cars segment by a wide margin. This year, their share fell to 28 percent in the first quarter, from 37 percent of the U.S. mid-size sedan market in 2008, according to auto website Edmunds.com.
Now, it is a wide-open market with several automakers turning their mid-size sedans into key players. The rising challengers include Ford's Fusion, KIA Motors Corp.'s Optima and Volkswagen AG's Passat. Mazda hopes to play here too by wooing midsize car buyers with a redesigned Mazda6 sedan which has undergone a wholesale reboot.
Gone is the goofy smiley face grille found in the Mazda3. The body, suspension, powertrain, interior, and exterior are all new designs. Starting at just $21,675, Mazda hopes to drive circles around competitors and look better doing it.
Like the CX-5 released last year, the 6 looks great and rivals the Fusion for the segment's beauty crown. It also looks far more posh than its price suggests by sporting a long hood and a roofline that slopes much like a coupe.
The bottom lip on the front fascia juts out prominently, similar to those often found on hardcore sports cars. With its bold in-your-face grille intensifying the expression of a piercing stare, this Mazda I predict, will be one of the year's most celebrated cars. Need I say it has already garnered the coveted Top Safety Pick Plus designation from the Insurance Institute for Highway Safety?
Inside, the Mazda6's interior is better designed and more richly detailed than many rivals. Nearly every surface of the Mazda is soft touch and those that are not feature properly used piano black trim. It not only out-classes the interior of a Hyundai Sonata that I drove the same week, but most others in the family sedan segment as well.
As in the previous 6, the new car's engine is a four cylinder, 2.5-liter DOHC direct-injected 16-valve aluminum banger. It is rated for 184 horsepower at 5700 rpm and 185 lb-ft of torque at 3250; its output is strong among competing fours, although not extraordinary. On the other hand, its EPA fuel-economy estimates – 26 mpg city/38 highway with a six-speed automatic – are excellent for a non-hybrid mid-size sedan.
Mazda6's fine road manners should set it apart. The Mazda6 not only drives quite well, and it also handles really tight in city streets and on the open highway. Though the engine is a little noisy at higher RPMs, the steering is very light and responsive. Interior noise is much improved, even at more than 80 miles per hour.
The car also carries six air bags, stability control, traction control and anti-lock brakes. The loaded Grand Touring model we tested added blind-spot monitoring, adaptive cruise control and a rear traffic alert system. The Mazda6 also carries a superb infotainment unit which makes it possible, for safety's sake, to control most operations though voice commands.
The system's flawless synchronization with my Android phone also enabled me to talk on my cell phone while driving throughout the District of Columbia where it is illegal to use a handheld phone while behind the wheel. I was also able to use the Pandora internet music service to access my favorite music stations which sounded better than any local radio station or the XM-Sirius satellite radio that came with the car.
Pricewise, as indicated earlier, the Mazda6 starts at $21,675 and tops out at Grand Touring for $29,495. I found the Grand Touring to be a bargain of sorts. While comparing it with comparable Kia and Hyundai models – which boast of giving more stuff feature-for-feature than competitors – we found the Mazda gave more yet matched the Korean models in price. This may just be the winner Mazda's been hoping for.