Highland Park Christian Academy Celebrates 30th Anniversary
Tamara M. Cooke Henry | 5/29/2013, 9 p.m.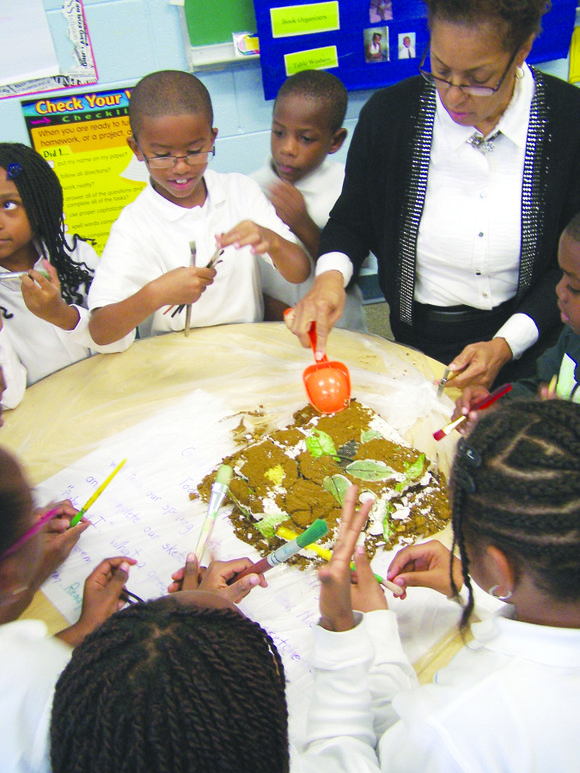 LANDOVER, Md. — Thirty years ago, the visionaries at First Baptist Church of Highland Park dreamed of a school, but none of them imagined it would be filled today with more than 200 high-achieving children, most of whom stay through middle school.
The Highland Park Christian Academy (HPCA) celebrates its 30th anniversary on May 30, as Principal E. Louise White notes that most graduates attend highly selective parochial and other private high schools. They excel in those new environments because the academy has the latest technology and uses some of the best teaching practices, said White, a veteran District of Columbia educator whose long career includes heading schools and training other principals.
"A significant number of them have gotten to the Honors program" of the high schools, White said of the academy graduates. "They get in and go straight to the Honors Program. So, we don't do too badly."
HPCA has a current enrollment of 209 students, with officials expecting to have a similar count by the fall. It is one of the oldest of the 122 private schools in Prince George's County and compares favorably to the dozen or so other church-run Pre-K through 8 schools.
In addition to the academic achievements of the students, First Baptist Pastor, the Rev. Dr. Henry P. Davis III stressed that the students' spiritual and moral needs are addressed too.
"Highland Park Christian Academy is an outstanding learning environment in which students are academically challenged and spiritually enriched through a trained, 'Spirit-Filled' and competent staff," said Davis.
The academy launched its Middle School in 2010 after its Board of Directors and Davis approved a parent proposal to expand to the eighth grade. Last June, an inaugural class of 12 students graduated from the Middle School and this June, 10 students will have completed the entire program with many of them already accepted to prestigious local high schools. The current Middle School enrollment is 27.
The anniversary celebration will include many who played key roles in the initial development of the school in 1983, a time when many churches did not offer nursery and other educational services outside of Sunday Bible study. The Rev. James J. McCord was pastor of First Baptist when a team of three created the Day Care Center. By the time the education building was constructed and named for McCord in September 1994, the Day Care was filled to capacity and had a waiting list.
"My thoughts were then as now, that if we don't teach our children, then no one is going to actually do it for us," said McCord, who headed the church for 27 years. "I thought as a church, we ought to be involved in our children's lives, from the cradle to the grave, so to speak, because I think it's important."
Part of McCord's drive for a church-supported school was his vivid memories of the nation's segregated past when he was denied educational and social opportunities in Nebraska and South Dakota. During those times, African-American churches had to be self-sufficient, providing jobs, meals and education. First Baptist of Highland Park was one of the first churches in the area to provide child care during church services. McCord said that operating a daily Day Care Center was a short leap from Sunday's services.